CISD's hunt for new leader ends with familiar face
Longtime popular administrator, principal, teacher named superintendent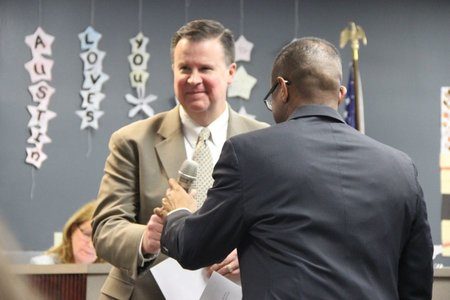 In the fall of 1990, Brad Hunt began his time in Coppell ISD as a Coppell High School teacher. On Monday night, he took over the lead position for the district when the CISD Board of Trustees approved his hiring as superintendent.
"I am excited and thrilled to be named the new superintendent for CISD," Hunt said. "It is wonderful."
On July 10, the board announced Hunt, who served as CISD assistant superintendent for administrative services, was the lone final candidate in its search for a new superintendent. After a state mandated 21-day waiting period, the board approved his hiring Monday night.
Hunt replaces Dr. Mike Waldrip, who resigned in May to accept the Frisco ISD superintendent position.
"Brad knows this district and our mission to personalize education for each learner," CISD Board of Trustees President Tracy Fisher said. "He knows our facilities, finances, technological needs, the importance of student centered curriculum, and our leadership team of principals."
Hunt began teaching at CHS as a special education, world geography, and government teacher. He later served as an assistant principal at Coppell Middle School West and a middle school in Carroll ISD, before returning to CISD as director of human resources.
Hunt served as principal of CHS from 2006-2011, where the campus saw the popular "I Rock CHS" T-shirts and Red Jackets campus ambassador program introduced under his leadership. He moved on to serve as CISD assistant superintendent for administrative services the past six years.
Hunt has two children in Coppell schools with his wife, Carroll ISD fifth grade teacher Janay Hunt.
"I think having his kids here, living here in this community, that's the skin in the game," Fisher said. "He lives it."
The board saw Hunt as not only an exceptional candidate, but as someone who had already proved a dedication and passion for CISD.
"[Hunt] has been here, he's been involved in our strategic planning since 2006," Fisher said. "He knows what our mission is. He won't need to get to know our community. He embodies our community."
Looking forward, Hunt plans on keeping students a focal point in all of his future decision making.  
"I love this district, I love the kids in this district, I love the teachers and parents," Hunt said. "It's so important that kids know that there are people that care about them and love them and support them. For a superintendent to have that as a top priority I think is a win-win situation for everyone.
"I'm looking for more opportunities to engage our community and improve our communication within the district. I want [Coppell] to be a great place for teachers to want to work, for kids to want to come to school and for parents to want to send their kids to school."
Coppell High School will have a new principal with Dr. Nicole Jund, new co-associate principals with Sean Bagley and Melissa Arnold, to go along with the new leader atop the district – albeit a familiar face.
"I hope that our district will be back on track, making education relevant for kids," Fisher said. "We can hit the ground running and hopefully he'll be well supported throughout the community."
Follow Amelia @ameliavanyo
Follow Fiona @fionakoshy10