Bhattacharya develops public speaking skills through speech competition
Sweaty palms and heart beating a million times a second are common tribulations that people endure when giving a speech. But for Coppell High School sophomore Swaraaj Bhattacharya, it is a piece of cake.
With the guidance from his father, Bhattacharya has practiced public speaking from a very young age.
His father, Sudipta Bhattacharya, realized that a lot of people who make it big in life are good at physical face-to-face communication. By allowing Swaraaj to present better, he can create connections that may help him later in life, which has given him a head start in terms of public speaking.
The practice usually consists of him writing a speech and then presenting it to the best of his abilities. Afterward, his father gives him pointers on what words he should emphasize, where he should look at different points in the crowd, his posture and his hand movements.
He and his father used to practice a lot more when he was younger, but recently it has just been him practicing alone. Right now, his father teaches other kids these same skills.
"He developed a large part of his skills in the process of observing several of my other students," Mr. Bhattacharya said. "In the early days, I did not think he would be one of my better students but I believe somewhere inside him was a passion that he would outdo others. Public speaking is all about confidence and once you start doing well you just love to be on stage. That's the trigger point."
Since, Bhattacharya has been able to put the skills that his father has taught him to the test.
"
Public speaking is all about confidence and once you start doing well you just love to be on stage. That's the trigger point"
— Sudipta Bhattacharya
In April, the English II Honors department hosted its third annual PechaKucha Day (PKD) competition for all of its students. PechaKucha ("chit chat" in Japanese), originated by architects Astrid Klein and Mark Dytham, is a presentation format that participants are only allowed 20 slides that are presented in 20 seconds for each slide.
Students read various historical fiction novels and after reading them, they would choose a specific social injustice in that book. Bhattacharya read Between Shades of Gray by Ruta Sepetys, a historical fiction novel about a young Lithuanian girl who is facing oppression from the Soviet Union. The underlying social injustice he chose to present was racism.
Once each student finished making their presentations, each English teacher would nominate one or two people from each of their periods to present their projects for the PechaKucha Day in the lecture hall, where Bhattacharya was one of the kids chosen.
"[PKD] has this cool opportunity to allow not only for students to become masters of skills important for English, but also to become passionate about something that they maybe weren't passionate about before that maybe that they are passionate about now," Bhattacharya's English II Honors teacher Malloy Butler said. "It's a really cool platform."
With his well-crafted public speaking skills developed from a young age and tips from his father and brother, Bhattacharya won first place in the competition.
"Swaraaj always had a knack [for] it," Bhattacharya's brother, Shorjoe, CHS Class of 2012 graduate and Southern Methodist University graduate, said. "His ability to give mature speeches with polished content has really improved. "His content and word choice has allowed him to emphasize points in ways that others can't do."
Ultimately, Butler saw that what allowed him to get first place was the culmination of everything that has helped him throughout the years.
"His confidence to be able to come up on stage with no cards and to be able to [conduct] a speech in six minutes and 40 seconds made him stand out," Butler said. "His demeanor was super confident and impassioned. His ability to appeal to the audience and to know the audience and to address them with the research that he's had and then also to be able to do it in a way that he's captured their attention was what made [his speech] great."
Last semester, Bhattacharya reached out to Butler to be the sponsor of his YouTuber Club at CHS. His interest in speaking up about important issues in the world along with his seasoned orating skills emerged into what his YouTuber Club came to be: a platform for young adults on social media to create YouTube videos that are messages about social injustices in the world.
"They each create their videos and then they upload them and they share them and it's something that they do for their own passion rather than for the recognition which is cool," Butler said.
At the moment, Bhattacharya does not have a future career in mind, but he knows he wants public speaking to be a big part of his career.
The skills that he has learned from a young age have set him apart as a public speaker now, and will help him with whatever he decides to forgo in his life.
"Originally when my dad used to teach me public speaking, I would just do it because it was [like] a chore and I had to do it but in the recent past, it's a lot more fun," Bhattacharya said. "It feels good when everyone claps for you."
About the Contributor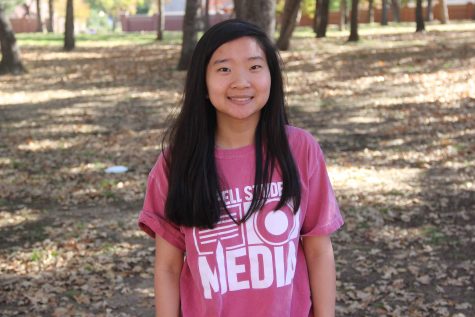 Gracie Blackwell, Business Manager, Social Media Manager
Gracie is a senior and third year staffer for The Sidekick newspaper. In her free time, she enjoys hanging out with friends, watching movies and traveling. With...