Kodros' gem gives Cowboys edge in bi-district playoff series
0-+
GRAND PRAIRIE — To say John Kodros was effective would be a massive understatement.
On Thursday night, the Coppell senior pitcher, on the mound for his first playoff start this year, baffled the hitters of Garland Naaman Forest. Plowing through the lineup, Kodros struck out 10 and allowed only a single baserunner on a walk. completing in a five-inning no-hitter in a 13-0 win over the Rangers in Game 1 of a best-of-3 Class 6A bi-district series at QuikTrip Park.
Coppell looks to sweep the series tonight in Game 2 at 8 p.m. at QuikTrip Park. If necessary, Game 3 is Saturday at 2 p.m. again in Grand Prairie.
Using a variety of pitches, Kodros was able to get ahead in the count on most hitters, where he would feature a curveball or slider for the strikeout pitch.
"I really feel like I did a good job of throwing all four of my pitches for strikes," Kodros said. "It allowed me to use the rest of my repertoire to keep hitters off balance."
The lone hitter to reach base came in the fifth inning, when Kodros got behind in the count, then just missed outside with a full count breaking ball.
As the Cowboys' ace all season, Kodros' performance Thursday night gives him and the rest of the pitching staff a spectacular start to the 2017 postseason.
"It certainly sends a message, because we're all scouting," Coppell coach Kendall Clark said of Kodros' performance. "It sends a message to [our future opponents] that it's not going to be easy. He's a quality guy on the mound, he's very seasoned, knows what doing.
"It sends a message to the next round, like, 'Hey, this dude's the real deal.'"
Hitting to the deep outfield of QuikTrip Park, the Cowboys jumped on Naaman Forest early. After the first batter was hit, sophomore centerfielder Blake Jackson picked up right where he left off from the regular season, smacking a double into the gap in left-center to drive in the first run of the game. Picking up eight runs in the first two innings, Coppell scored early and often en route to the victory.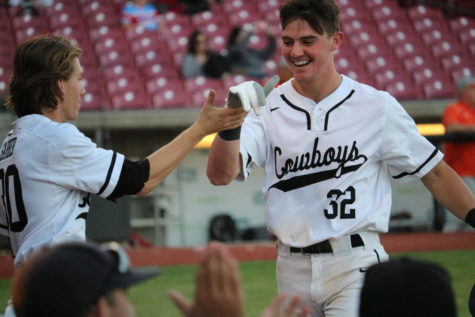 "I had a real good feeling yesterday, we were the best I've seen us practice [all year]" Clark said. "We came out of Wednesday's practice, and I was like 'wow, if we don't play good I'll be shocked.' Those hitters were really locked in."
From the leadoff hitter senior Cody Masters to senior second baseman Mason Holt, the seven hole hitter, the Cowboys picked up runs from throughout the lineup. Holt drove in four runs, including a three-run triple in the third. The top third of the lineup went 5 for 10 with six runs scored.
"It's awesome," Kodros said. "I know if I don't have my best game, I've got guys to rely on. We've got each other's back."
With the Game 2 matchup on Friday night, senior pitcher Trey Becerra will be on the mound for Coppell. With junior closer Rye Gunter and a potent lineup behind him, Kodros' work on Thursday sets up the stage for the hard-throwing righthander to advance the Cowboys to the area round.
About the Contributors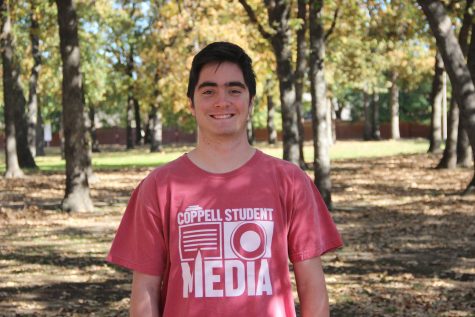 Marcus Krum, Executive Sports Editor
Marcus Krum is a senior at Coppell High School. In his third year on staff, he is the sports executive editor. In his years on staff, he focuses mainly...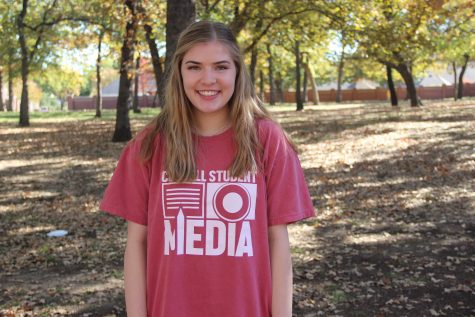 Amanda Hair, Sports Photography Editor
Amanda Hair is a senior at Coppell High School, this being her final year on The Sidekick and her first year as the Sports Photography Editor. She is also...