Finding artistic inspiration, building closer friendships at state VASE competition
This past weekend, five Coppell High School art students traveled to San Antonio to participate in the state Visual Arts Scholastic Event (VASE) competition.

CHS Art I and II teacher Elsa Reynolds found it gratifying to take students from every grade level and loves that students bring back new insight about art.
"This year we had someone in each [of the four] divisions so we actually had a really good spread across the board," Reynolds said. "Two of them medaled at state and they were very excited. It was really good for kids because even though they may not come back with a medal,  just the fact that they are seeing the best artwork from the entire state, a total of about 2,000 pieces."
Sophomore Bleu Wilson received a 3D Art Scholarship for $100 for the sculpture she created at the event.
"One of workshops all the students signed up for was a scholarship one," Reynolds said. "They give them materials, a prompt and an hour and a half. [The students] create something and [the judges] award scholarships."
Seniors Kristin Boyer and junior Paul Chou both received a state medal. For Boyer, this year's trip marked her fourth year as a state medalist, but her first year with a perfect score from one of the judges.
"It always feels good to know that you medaled," Boyer said. "On my score sheet, my judge gave me a perfect score and this was the first time I got a perfect score at state. I had a really great time, I was able to hang out with a great bunch of kids from Coppell and the art teachers.
Sophomore Jingchun Quan enjoyed getting to bond with other students from art while they enjoyed experiences together.
"I just liked meeting all the people because they are all really good artists," Quan said. "I got to stay with the other [CHS] students who made state and the art teachers, we all just got to share experiences."
More than anything, this year's trip serves as an inspiration for the years to come.
"My favorite part is to see the students look at all the artwork and get inspired by it," Reynolds said. "They start talking about what they are going to do next year, start planning for it and just having fun."
Follow Akila @akilam29
About the Contributor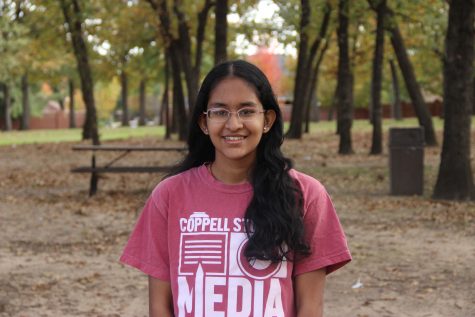 Akila Muthukumar, Staff Writer
Akila Muthukumar is a sophomore who loves writing, dancing and learning new things. You can contact her at [email protected]