Teruya creates buttons to foster student awareness, raise funds for Latin
Coppell High School sophomore Karina Teruya is a creative genius, a dedicated Latin study and most importantly, a determined problem solver. All three of these characteristics merge together when she creates buttons.
When CHS Latin teacher Gina Powell brought her button machine to class one day, Teruya suggested fundraising for events such as The Texas State Junior Classical League state competition by making buttons with philosophers and a fun pun related to each.
"I never asked Karina to do it…she just did it," Powell said. "That's the thing Karina does, that's what defines her. If she sees something that needs to be done, she is going to figure it out in a fun and creative way. She's truly amazing."
"
I never asked Karina to do it…she just did it. She is truly amazing. "
— Gina Powell, CHS Latin teacher
As Teruya was selling pins in March, she received news from her Latin teacher that Latin III and IV classes would not be offered at CHS. As of now, Powell said the plan is to offer it as a dual credit course at North Lake Community College.
Thus the buttons really have a twofold purpose: 1. to raise awareness about the relevance of Latin classes being cut next year and 2. to raise money for field trips and events/competitions Latin had this year.
More than meets the eye went into planning what may initially seem like a simple design.
"I first did the sketches for these pins last year," Teruya said. "Ever since I started Latin, I really enjoy the class, the history, the literature, the grammar and how amazing the language is itself."
Although the button making machine allows the different parts to come together easily, Teruya must work with painstaking care to ensure each part is high quality.
"I transfer the [paper] sketch onto a digital platform," Teruya said. "It takes me four to six hours to make three to four designs because I need to format it, think about the color set, and just drawing it. Then I would print it out. The button comes in parts: the outer shell, the plastic sheet that protects the paper [with the sketch], and the button backing. [The machine] presses it all together."
For Teruya, seeing the overwhelming positive reception students was a pleasant surprise.
"At first I didn't actually think about selling it to people in our school," Teruya said. "I didn't think people would be interested because I feel they don't have as good of a connection to history and Classical culture as a Latin students. I was so excited when my friends asked to buy one."
"
At first I didn't actually think about selling it to people in our school. I was so excited when my friends asked to buy one."
— Karina Teruya, CHS sophomore
The buttons were mainly advertised through word of mouth as a few Teruya's friends told their own friends and the word continued to spread.
"I'm pretty close friends with Karina so I knew that she was selling [the buttons] and I knew that she wanted to get the word out about Latin," sophomore Isabel Mascarenhas said. "I wanted to help her with that and I just really liked the design: they were cute, punny and accurate in terms of historical figures."
The pins were a testament to various characteristics Teruya possess, as both her teachers and friends can attest to.
"Karina is a very disciplined person," Mascarenhas said. "She's really good at art and she's very creative and I think that really shines through in her work [with these pins]."
Beyond her talent and skills, it was crucial for Teruya to be an approachable friend who others will want to support in an endeavor such as this one.
"Everyone loves her because she is willing to help everyone," Powell said. "Just her overall demeanor, it is not just [her] getting something and not giving it to anyone else. She gets it and helps other people. She is a dream student."
As Mascarenhas met other people with the buttons, she felt an immediate connection to them through their shared support for a program.
"When I see other people in the hallway wearing them, I like to ask them if they got it from Karina because I know she is making them," Mascarenhas said. "I would ask some people if they wanted to buy them as well."
Students in Latin II and Latin III classes will be most affected by decision to remove Latin III and IV classes.
"If you ask a lot of people who are passionate about Latin, we don't want Latin to be cut," Teruya said. "Latin is a thing that we still know about. We still have a connection to. Even though the philosophers [on the pin] are Greek, they have a connection to Ancient Rome."
"
Latin is a thing that we still know about. We still have a connection to. "
— Karina Teruya, CHS sophomore
Some of the students' concerns regarding moving the class to North Lake include being unable to drive themselves or parents being unable to make transportation arrangements. Teruya also emphasizes that commuting would take away from valuable time for other classes in CHS.
While the pins gained popularity on campus, Teruya also sold a large portion at a state Latin competition for a grand total of a little over 100 buttons and made about $250.
"I was very surprised how fast people were buying the buttons and how fast the word was spread," Teruya said. "I'm the kind of person who decorates my backpack and people would come up to me and notice the buttons."
Powell found the fundraising especially helpful to pay for costs such as bus transportation which can cost up to $900.
"[When I first heard her idea] I felt relieved, because we needed to raise awareness in a fun way and at the same time we did need to raise funds because the students were doing so many activities," Powell said.
Ultimately, Teruya hopes the buttons have played at least a small role in the fight for Latin classes to remain at CHS for the years to come.
"Selling these buttons is a great way to show Coppell High School how many people are interested in Latin," Teruya said. "I think it is important that they don't cut the Latin program. It isn't just about learning the language. Latin is all the core school subjects in one class. You learn so much and there is a big story behind all of it."
Follow Akila M @akilam29
Leave a Comment
About the Contributor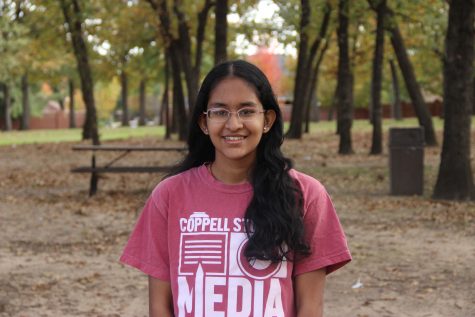 Akila Muthukumar, Staff Writer
Akila Muthukumar is a sophomore who loves writing, dancing and learning new things. You can contact her at [email protected]