Run for title defense falls short in regional quarterfinals
McKINNEY — As a light rain settled in on Ron Poe Stadium Tuesday night, the championship hopes of the Coppell boys soccer team began to dissipate. Trying to stage a comeback after two early blunders, the Cowboys were stopped short, falling to Sachse, 2-1, in the Class 6A Region II quarterfinals.
In only the third minute of the match, Sachse put a ball behind the Cowboy defense. Sophomore goalkeeper Giovani Lomeli hesitated a half-second too long to get to the ball, and the Mustangs took advantage, dropping it past Lomeli into the goal. Less than 10 minutes later, the Coppell defense coughed up a pass to Sachse, who again capitalized and took a 2-0 lead.
"The most difficult obstacle that we had was to try to believe, knowing that we could come back into the game, " Coppell coach Chad Rakestraw said. "It took us some time in the first half to start to really have some of that belief."
After the attack saw some small improvements later in the half, the Cowboys came out of the locker room at halftime with an energy that was nonexistent in the first 40 minutes. Right away, this proved to be huge, as senior midfielder Parker McClure took advantage of a great look at goal and hit a screamer into the back of the net to cut the lead in half.
"It was huge for us," senior defender Laurence Fairchild said. "At halftime, we talked about how if we want to get back into the game, we have to come out right from the beginning and try to get a goal, and that's exactly what happened. We really thought that would be the catalyst."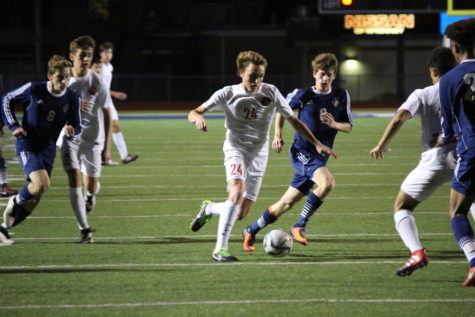 Yet, after the goal, Sachse settled back to try to take away Coppell's attack entirely. On the few chances the Cowboys were able to create after this shift in play, none were converted.
"It was the perfect scenario for us," Rakestraw said. "We put them on their heels for a little while and had a couple chances, but they did a really, really good job defending us inside and around their 18."
Sachse's stout defense on the back line halted what looked to be several perfect scoring opportunities later in the half for Coppell. In the end, the deficit was just too much to overcome.
With the season coming to a close in heartbreak, it was not the wins or losses that was important. It was the bonds between teammates, the friendships created that mattered most.
"[I am] just happy that I got to spend so much time in this great program with so many great people," Fairchild said. "I made so many friends these past few years. More than winning or anything, I'll just be thankful for the relationships I made."