North Texas Teen Book Festival brings stories to fans in unique ways
IRVING – The North Texas Teen Book Festival (NTTBF) began with many excited attendees lined up to receive free merchandise. By the end of the day, they went home happy, books in tow.
NTTBF is an annual, day-long gathering of readers and authors at the Irving Convention Center in the spring. Attendees visit panels, meet authors and learn about upcoming books.
NTTBF has been celebrating books for three years. Compared to last year's festival, there were some new additions to the schedule.
This year's event introduced a new way to celebrate books: book buzzes. Book buzzes are the publishers' chance to preview recent and upcoming books.
In the Epic Reads Book Buzz, Margot Wood, who runs social media for publisher Epic Reads, talked about the recently released books The Hate U Give, King's Cage and American Street. At the end of the book buzz, advanced readers copies (ARC) of books such as Ramona Blue by The New York Times bestselling author Julie Murphy.
Overall, there were more publisher events. Epic Reads had meet-and-greets with their authors such as debut author Angie Thomas and The New York Times bestselling author Victoria Aveyard. Another publisher, Fierce Reads, had a breakfast open to a limited number of attendees.
On Terrace 3, 100 attendees huddled together in the chilly outdoor air, clamoring to get some food and a chance to talk to the six featured authors.
"[My favorite part of the Fierce Reads breakfast] was seeing how the authors described their own books and getting free books," Coppell High School junior Maya Govindarajan said.
The publishers tried to be more active compared to last year. Fierce Reads had ARC giveaways happening from 9 a.m. to 3 p.m. Penguin Teen constantly tweeted about a new book or merchandise being given away.
There were more chances to get free merchandise and more people to take advantage of those chances. Students came in by the busload from local middle and high schools, including Coppell Middle School East. This caused the festival to have a high concentration of people, creating a high traffic environment in the convention center.
Attendees had to line up long before the panel occurred because of the lack of space. For the book buzzes, some were lined up 30 minutes before the book buzz began.
During the book signing, lines were even worse. People lined up two hours before the signings even happened and the lines snaked out of the signing area and into the side hallway.
Most people seemed to be waiting for popular authors such as The New York Times bestselling authors R.L. Stine, Veronica Roth, Marie Lu and David Levithan. Lines for these authors were often closed once they reached capacity and attendees had to mill around, waiting for the line to reopen.
While the lines were full and it was hard to maneuver through, the festival was filled with happy attendees ready to dive into their books when they got home.
About the Contributor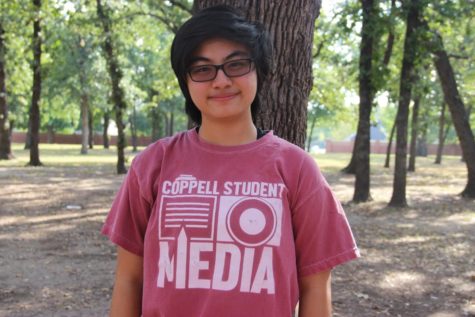 Wren Lee, Executive Design Editor
Wren is a senior. She moved here from the Land of Disney: Orlando, Florida. Yes, she went to Disney a lot. Yes, she has been to Universal. Wren adores...