Diaz creates magic with VASE art entry, showcases creativity through mythological creatures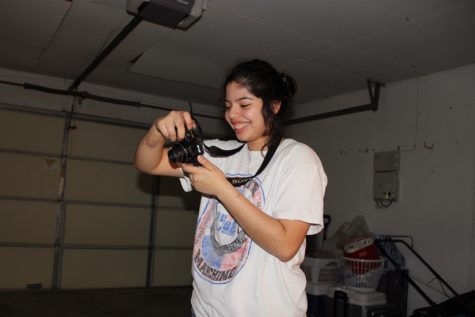 Enter. Plan. Create. This was the process for many art students for Visual Arts Scholastic Event (VASE), which took place on Feb. 11 at Coppell High School.
CHS junior painting student Jasmine Diaz, came up with an entry that is sure to wow her audience.
"I'm [representing] different folktales, legends, creatures and I'm putting face paint on [models] so the [creatures] can be represented by them," Diaz said. "I want this to be really eye-catching and meaningful because this isn't something that is normally done, especially with this really long process."
Diaz applied face paint on her models, provided costumes for them according to their assigned creature and took pictures of them posing as the creatures, a process which took three days.
On the first day, the photo shoot took about an hour per person.
Diaz said the creatures did not particularly symbolize anything, but she added specific characteristics for creativity purposes.
"If you were to give me a vampire, I wouldn't just want to do that because it's just painting a pale face and adding fake blood," Diaz said. "There's not a whole lot of creativity."
Her inspiration came from the movie The Devil Wears Prada.
"I was like 'I really want to do that now' and then my teacher brought up VASE and I was like 'I know what I'm going to do now'," Diaz said.
CHS senior Brandon Medel was one of the models in Diaz's photo shoot. He portrayed a peryton, a mythical creature that is deer-like.
He heard about the project when Diaz told him about it, and because his sister was also involved in it.
"I did not know what I was expecting. I thought we were just going to be face painted on and then just pictures," Medel said. "I didn't know we'd be dressing up. It was a cool experience."
Although the photo shoot was a bit weird for him at first, Medel ended up enjoying the experience.
"[Diaz] was a really organized person in doing everybody's makeup, in a really good art style, so I would say it was a fun time for me," Medel said.
CHS sophomore art student Azurdee Clark also volunteered to be a part of Diaz's project, and she enjoyed portraying a griffin.
"My friend Jasmine was drawing her pieces in the art room and I asked her what she was doing, and she said she was drawing her pieces for VASE," Clark said. "A few weeks later, I volunteered to be a model for her."
Although she felt like she was part of an experiment at first, Clark later changed her mind.
"I've seen what Jasmine can do. She's pretty good with a single paintbrush and some paint," Clark said.
Clark thinks that the piece is different, creative, and something "out of the ballpark" that someone wouldn't think of to do.
Despite the fact that Diaz wasn't able to attend due to sickness, she still hopes that her piece comes off as new and refreshing for those who see it, because she spent a lot of time working on it.
Follow Sofia on Twitter at @sofia_i_g