Everybody Has A Story: Gil de Ieyva finds acceptance, purpose in faith community
Coppell High School senior Daniela Gil de Ieyva has always found solace in her Catholic faith. Throughout high school, her piety has increased and she can even see missionary work in her future.  
Though Gil de Ieyva has always been religious, she began to prioritize her faith when she entered middle school.  
"When she was about 12 years old, she asked for a Bible," Gil de Ieyva's mother, Liliana Guajardo, said. "We had one, but it was for adults. She asked for a Bible. She got it for Christmas. That was one of her Christmas presents. I actually have a picture of her on Christmas day laying on the carpet and reading the Bible. Nobody told her to do it. She was just spending her time learning the Bible. She would spend hours just reading the Bible."
During middle school, Gil de leyva lived in McAllen, Texas. However, she moved to Coppell as a freshman and began to attend St. Ann Catholic Parish.
"My freshman year when I moved here and I first started going to St. Ann's, my mom forced me to go to church even though I didn't want to because I was very nervous," Gil de Ieyva said. "I was going through a lot of stuff and it was really hard for me."
At St. Ann, Gil de Ieyva joined the High School Ministry (HSM), a youth group dedicated to the way of God and Jesus Christ.
"Once I started going to HSM, I met a lot of people and from there, the people at my church, my youth ministers have helped me a lot with my faith and growing," Gil de leyva said.
As Gil de Ieyva felt more accepted in her church, she began to dedicate more and more time to her faith. As the summer before her sophomore year began, she spent the a few weeks in Laredo, Texas building homes for those in need.
The mission trip occurs every summer for a couple of weeks. The volunteers take a charter bus to Laredo, Texas and build homes for those in need. During Gil de Ieyva's first year she painted a house, made a bathroom, and fixed a ceiling.
Along with helping those in need, Gil de Ieyva was able connect with other church members helping out in Laredo.
"These experiences have brought me to my closest friends," Gil de Ieyva said. "My first trip into Laredo, I met a lot of my best friends. I think it's amazing how I made friend in church and how we build each other up and care about each other. Those friends are the friendships that I'm always gonna love and they're always gonna be there."
At Laredo, Gil de Ieyva met Coppell High School junior Natalie Henderson.
"We were both assigned painting the outside of a house together," Henderson said. "It was just me and Dani. She was holding the paint bucket. I was just painting and we were just talking about school and church. She was telling me all about her. She sounded very passionate about what she believes in and in her beliefs and I love that because I'm passionate too."
Their connection seemed like fate as they were both able to express themselves through their religion.
"Her faith [is inspiring]," Henderson said. "Everything she does is based off of her faith. I think that's one of the great qualities she has. If you need help and you go to her with something, she will always answer with something about faith. She's so kind and caring. She cares so deeply about people, which not a lot of people do. She cares about strangers, even if she doesn't know."
Along with Henderson, Guajardo is also shocked by the amount of time Gil de Ieyva dedicates to her faith and helping those in Laredo.
"She invested some of her summer and some of her savings in going to that trip," Guajardo said. "It's not a comfortable trip because you are sleeping in cots. It's very hot and very cold. Sometimes they need to help rebuild houses in the hot weather. It's not a pleasant thing to do during your summer. You would want to spend it at the beach or hanging out with friends. Just seeing her dedication and seeing how a teenager is willing to get her hands dirty building and painting houses and just helping."
Guajardo is amazed at how Gil de Ieyva has decided to spread the word of Jesus, something she did not teach her.
"I see how she spends most of her time, even her spare time and weekends to helping church," Guajardo said. "The way she memorizes and verses and her willingness to learn more. To dedicate her life to spreading the word. It's actually something I didn't teach her. I'm Catholic and everything, but I never taught her to be that dedicated."
Gil de Ieyva plans on spreading her religious beliefs to places outside this country. After college, Gil de Ieyva will be traveling to Peru and spreading the word of God.
"I really love spending my time there and I know that whatever career I'm in, I want to be centered around my faith," Gil de leyva said. "After college or maybe next year, I'll do a gap year and do missionary work. I want to go to Peru or other countries to help build and evangelize my faith."
About the Contributors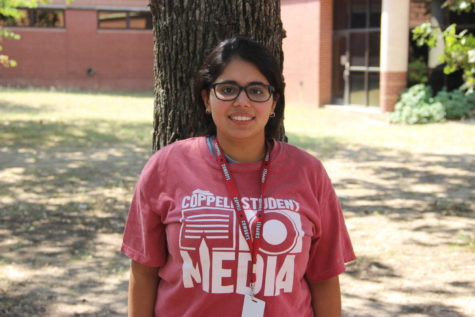 Farah Merchant, Co-Student Life Editor
Farah Merchant is a senior and third-year staff writer and Student Life Editor on The Sidekick. She also works for the Citizen's Advocate, the local Coppell...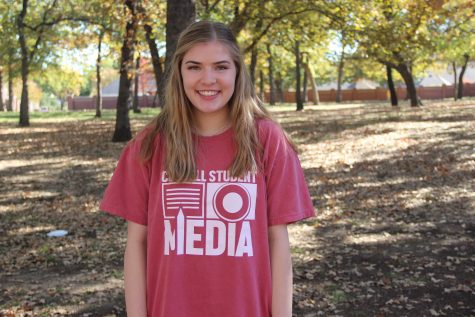 Amanda Hair, Sports Photography Editor
Amanda Hair is a senior at Coppell High School, this being her final year on The Sidekick and her first year as the Sports Photography Editor. She is also...