Despite absence of Priest, attack clicks at right time in win (with video)
Without the presence of Coppell junior forward and leading goal scorer Wyatt Priest, a struggle in the attack looked to be imminent. More than just losing his dynamic attacking ability, the team would be chemistry with Coppell senior winger Nick Taylor and the rest of the forwards.
Instead of reeling back, however, the Cowboys attack looked as sharp as ever, with clean play and dynamic passing combinations giving Coppell the edge in a 4-0 rout of Richardson Berkner on Tuesday at Buddy Echols.
The Cowboys (6-0-1) were aggressive from the start, and it paid dividends. After Coppell put a shot over the goal in fifth minute, Nick Taylor went on a nice run past the Berkner (3-6-1) defense and put a strike in the back of the net from 25 yards out.
"Taylor in the first 15 or 20 minutes was an impact player," Coppell coach Chad Rakestraw said. "He was getting after guys. We got him quite a bit of service on [the left] side, and he created multiple chances right from the start."
Taylor and the attack continued to control possession and create scoring opportunities. In the 10th minute, junior forward Francisco Redondo put a cross right on the foot of junior midfielder Bennett Hunter, who finished to give Coppell its second goal.
Quick passing on first touches and one-two combinations kept the attack flowing well, and after Taylor made another nice run into the box, his shot went off the crossbar and Hunter finished off the rebound to extend Coppell's lead to 3-0.
"We got the ball out wide, and played one-two touch," Hunter said. "We played very quickly, and we got good crosses in."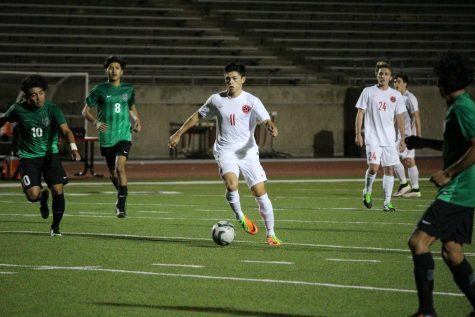 Heading into the second half, the Cowboys held on to that 3-0 lead. But the attack was not done there. Senior midfielder Bishesh Manandhar came in as a substitute and scored on an incredible volley, giving them the 4-0 lead that they would retain for the remainder of the match.
While the attack flourished, the Coppell defense had its moments as well. With senior Alex Haas making the position switch on Tuesday from midfielder to defense, he added a presence that was needed to play against teams as defensive-minded as Berkner.
"Haas has a great ability to hit big balls," Rakestraw said. "He can put it where he wants. From an advanced position, a lot of people are sitting back on us and packing numbers in (defensively), so we've got to be able to break the back line with a good ball out to our wingers or up to our forwards."
Haas, along with senior goalkeeper Deep Soni, sophomore defender Jeremy Basso and senior defenders Laurence Fairchild and George Ackling, helped retain the shutout despite a couple miscommunications.
In the first half, Haas dropped a pass back to Soni, but it dribbled past. Soni was able to get back to make the save. Later on, after Soni came well out of the box to clear a ball, the goal was left wide open for the Berkner attack, Basso was able to get back just in time to save a shot on goal.
"We're just looking to get better every game," Rakestraw said. "We were slow at the first of district in moving the ball from three, four or five touches. Now we're just moving the ball quicker. That's a huge difference [for us]."