Hopkins regales CHS students with her books, life stories
You would never think author Ellen Hopkins has gone through life's hardships because her attitude is bubbly and bright. She smiles easily and leans in to whisper as if she has known you all her life.
Hopkins has firsthand experience dealing with some of the topics addressed in her books. Her first book Crank is the story of Kristina, a girl who gets addicted to methamphetamine.
"[Crank, Glass, and Fallout, the books following Kristina] are about 60 percent fact, 40 percent fiction," Hopkins said. "Real life comes to play in a lot of my books."
Her daughter Cristal, whom Kristina is loosely based off of, left for a trip to visit her father, Hopkins' ex-husband and a fellow cocaine addict, and came back with a meth addiction.
"On that two week summer visit with her dad, a guy she met talked her into trying crystal meth," Hopkins said. "And her dreams were gone. Her dream was computer animation.  She wanted to work for Pixar or Dreamworks. But instead she came home with a meth addiction. Her dreams were gone. Just like that."
Cristal's story is meant as a warning for her readers who are mostly young adults.
At the time, Cristal went through rehabilitation, but she did not get better, partly because she did not want to get better.
She drifted in and out of prison, giving birth to many children to different fathers. Most of these children went to be raised by Hopkins. Currently, she is not taking any drugs.
"I came to writing for young adults because my kid," Hopkins said. "So I wanted to write a book to keep people from getting into the same trouble she got in."
And readers understand her message.  
"I learned that some books can be deeper than they seem," Coppell High School junior Casie Wilford said. "They can actually be true and affect real people how they live today and where they are."
Furthermore, Hopkins' relationship after the one with Cristal's father was abusive. Her newest book The You I've Never Known is based off of that relationship. The man in that relationship kidnapped their daughter Kelly and kept her for three years.
Hopkins' advice for people in an abusive relationship? Run.
"You cannot fix them. You cannot change them. Get out," Hopkins said.  
When she is not writing, Hopkins gardens and watches baseball.
"For me, to work my body, either gardening or taking a run with my dog or sometimes just a hot tub to just get away from the computer," Hopkins said. "That kind of loosens up the creative part of your brain when you're working your body. That's kinda of my therapy."
Growing up, Hopkins was surrounded by celebrities because she lived in Palm Springs, Calif. Once she got the chance to meet Elvis Presley because her younger brother was selling Cub Scout tickets.
"We were ringing random doorbells. And Elvis was behind a big, giant wall compound, but the gates are open," Hopkins said. "So we're walking up to Presley's door. And he answered the door in his boxers. I saw Presley in his underwear. It was not attractive."
Hopkins was adopted when she was a baby, but literature was major part of her genes. Her biological mother, whom she found in 2000, was a scriptwriter for Walt Disney.
"Our first exchange once we reconnected was she wrote me a poem about leaving a baby behind," Hopkins said. "And I wrote a poem about what it was like being that baby left behind."
Even her adopted mother, who was interested in theater and Shakespeare, was an avid reader.
"She read to my little brother and I every day," Hopkins said. "Until I told her, 'Mom, you don't have to read to me anymore; I've been [reading books] by myself."
Hopkins was an avid reader early on, reading chapter books before kindergarten. Her love of books impacted her interest in writing.
"Early avid readers almost always become avid writers," Hopkins said. "Because, at some point, we're like 'God, that sucked, man. I could do better.'"
Her talent for writing was evident at a young age. Her first published work was a haiku published when she was 9. Even seventh grade, her teacher once told her she would be a writer one day.
"I write because it's something I've had to do," Hopkins said. "It's just something that pours from me. It's my heart. I could not write."
About the Contributors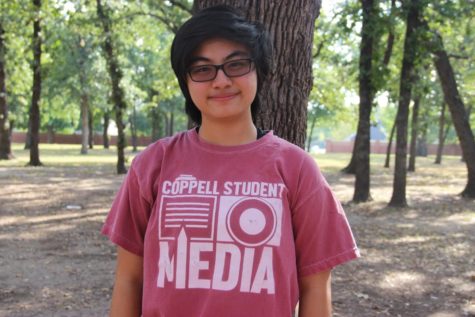 Wren Lee, Executive Design Editor
Wren is a senior. She moved here from the Land of Disney: Orlando, Florida. Yes, she went to Disney a lot. Yes, she has been to Universal. Wren adores...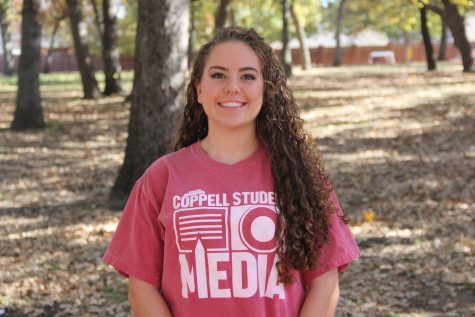 Hannah Tucker, Staff Photographer
Hannah is a sophomore at Coppell High School and is a first year photographer for The Sidekick newspaper. She is a second year member of the Coppell Color...