3 military signees, 4 girls soccer players amongst Signing Day festivities
"It just gives me chills, thinking about it."
To say senior football player Kevin Madigan was excited to sign his letter of intent with Army West Point would be an understatement. But for him and two other Coppell athletes of the 12 who participated in National Signing Day in the Coppell arena, the signature means more than just getting the opportunity to play at the next level. It was the start of a journey of service to his nation.
"It's something I take incredible pride in," Madigan said. "My name will be on my chest, but I'll be playing for my nation on my back.
"At the end of the day, everyone who is in a service academy or goes to a military school has one goal, and that's to become a leader and lead the next generation of soldiers into battle."
In addition to Madigan, senior track athlete Zach Dicken and senior lacrosse player Ripken Reynolds committed to Air Force Academy and Virginia Military Institute, respectively. Dicken will be required to serve five years of active duty, while Reynolds has optional service after he finishes schooling at VMI.
For Reynolds, the thrill of signing his letter of intent only increases his excitement for the future.
"When I verbally committed, it didn't hit me at first," Reynolds said. "When I got back on the lacrosse field for spring was when I realized, 'Wow, I'm official.' Now, since I signed, especially with this whole ceremony, it makes it that much better."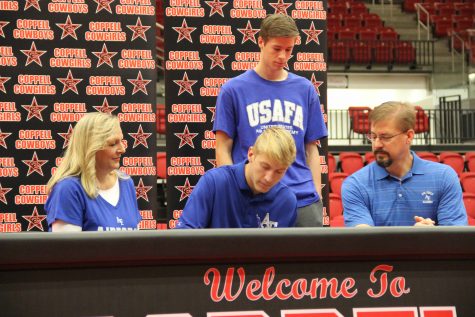 Another notable group signing to play college athletics was the four girls soccer players. With senior goalkeeper Maddie Weber committing to Clemson, senior defender Sarah Houchin signing with Auburn, senior forward Baylee Hux committing to Abilene Christian, and senior defender Erian Brown signing to Texas Woman's University, Coppell girls soccer coach Ryan Dunlevy recognizes the years of dedication that culminated into this day.
"These kids have been working for this their whole lives," Dunlevy said. "It's been a goal of theirs since they knew what college soccer was. To see all the hard work, all the dedication, all the time pay off for them individually, this is about them today. Outside of the program, this is about them individually."
With these four seniors leading the team, the Cowgirls have started 9-0 on the season. In fact, they still have yet to allow a single goal on the year, a feat unmatched at this point in the season even by the 2014 state championship team.
"It says a lot about the program," Dunlevy said of the four signees. "It has a very prestigious history. A lot of talent has come through here, and they're continuing the tradition. They represent Coppell well."
2017 National Signing Day signees
Football:
Connor Choate – University of Memphis
Joe Fex- Bucknell University
Kevin Madigan – United States Military Academy at West Point
Girls Soccer:
Baylee Hux – Abilene Christian University
Erian Brown – Texas Woman's University
Maddie Weber – Clemson University
Sarah Houchin – Auburn University
Cross Country/Track:
Zach Dicken – Air Force Academy
Ashley Scrivner – Oklahoma Baptist University
Lacrosse:
Ripken Reynolds – Virginia Military Institute
Liz Pease – Virginia Tech University
Golf:
Andrew Lindberg – University of Texas at Arlington
About the Contributors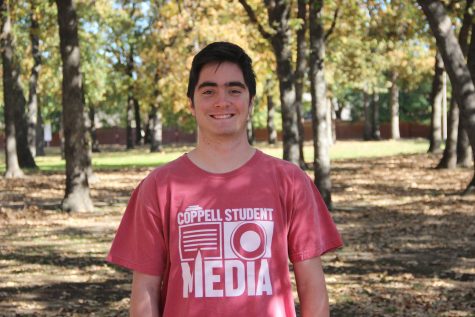 Marcus Krum, Executive Sports Editor
Marcus Krum is a senior at Coppell High School. In his third year on staff, he is the sports executive editor. In his years on staff, he focuses mainly...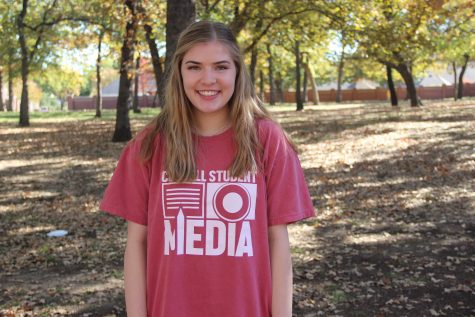 Amanda Hair, Sports Photography Editor
Amanda Hair is a senior at Coppell High School, this being her final year on The Sidekick and her first year as the Sports Photography Editor. She is also...