Women's March on Austin brings tens of thousands of advocates to state Capitol (with video)
AUSTIN – A flood of signs poured through South Congress Avenue on Saturday morning, held by approximately 50,000 demonstrators during the Women's March on Austin. The sea of women's rights and civil rights advocates chanted "this is what democracy looks like" as they marched back towards the Capitol.
These advocates joined more than one million participants in marches worldwide. Here are the reasons why some chose to march.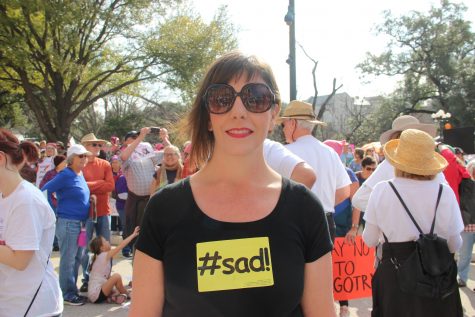 Anne Davis, Austin
"I think it's easy when you're far away from the government and the U.S. Capitol, to kind of feel like there's nothing you can do. It's really easy to get upset and stuck and angry, and I think being around people that are all feeling the same thing is empowering and it's a way to have our voices heard. It's important for us to be here and to be a united front to show people all around the world that we care.
"Donald Trump likes to tweet, he loves to use this hashtag, and I think it's pretty ironic that they things he's calling sad are pretty ridiculous, but all the things that his [new administration] are doing are actually pretty sad."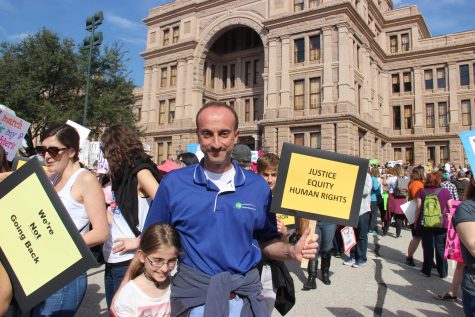 Mahon Faled, Austin
"I wanted to support women and protest this president taking office. We should all be treated equally, men, women, whatever our backgrounds are. I think we should use our voices and let other people hear us. We are here, we are standing for something that is right. This is what America was built on."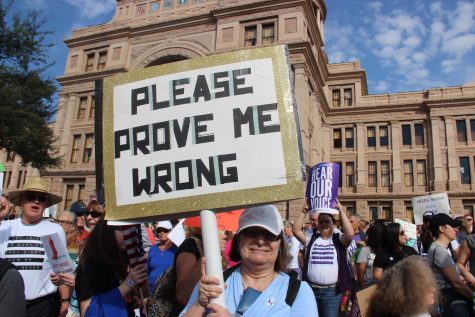 Melissa Botting, Houston
"I was a really strong Hillary supporter and I think the world is going to be a disaster with Trump and I'm simply hoping I'm wrong. I think marching builds moral for people who are doing the work of calling their congressmen on a regular basis and going to town halls and trying very hard to get the local government changed."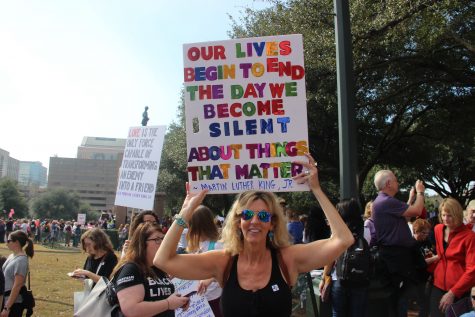 Stephanie Hickey, Austin
"It means everything. It means the moment we become silent, we give up our rights. You give up the right to complain, you give up the right to celebrate. I'm almost 55 years old, I'm not going to allow a person like Trump, who has been vile and degrading to women and minorities, to go into office without participating in a protest. We have to keep our voices heard. I hope America and the world sees how many people are united against Trump's policies and the way he treats people, how many people disagree."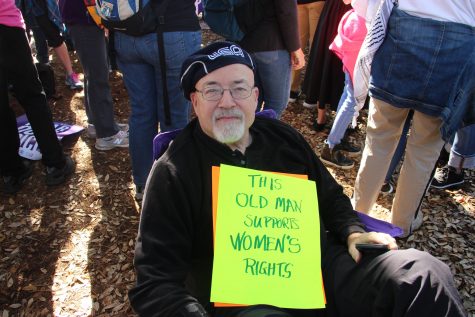 Mike Renquist, Austin
"I'm married to a United Methodist clergywoman, her name is the Reverend Doctor Georjean Blanton, she served churches in Dallas. Every pulpit she ever served she was the first woman in that pulpit. In every United Methodist Church, she still faced resistance. It was always a battle.
"I've been demonstrating and participating in these kind of activities for almost 53 years, and I'm tired. I was hoping for [change], but the America I thought I knew disappeared on Nov 8. It meant that the issues that need to be worked on still need to be worked on."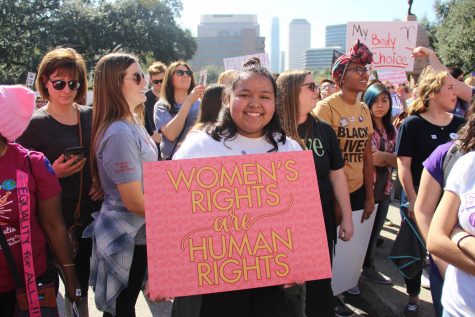 Alicia Delgado, Austin
"Women preserve the rights that we naturally have. Today is not just for women, since Trump is in office now, it's for anyone who's in fear of something. Just because some guy says terrible things about us, that doesn't mean we're going to keep quiet, we're still going to fight for what we believe in, for our rights. Whatever it takes, I won't be put down by some man."

Hang on for a minute...we're trying to find some more stories you might like.
About the Contributor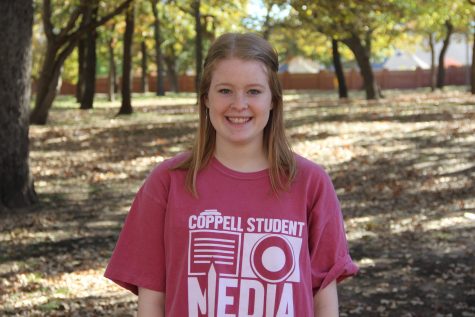 Meara Isenberg, Editor-in-Chief
Meara is a senior at Coppell High School and the Editor-in-Chief of The Sidekick newspaper. She is proud to be a part of a great team of really talented...