The hands behind healing: Austin Street Shelter provides new beginnings for Dallas most vulnerable homeless
Hang on for a minute...we're trying to find some more stories you might like.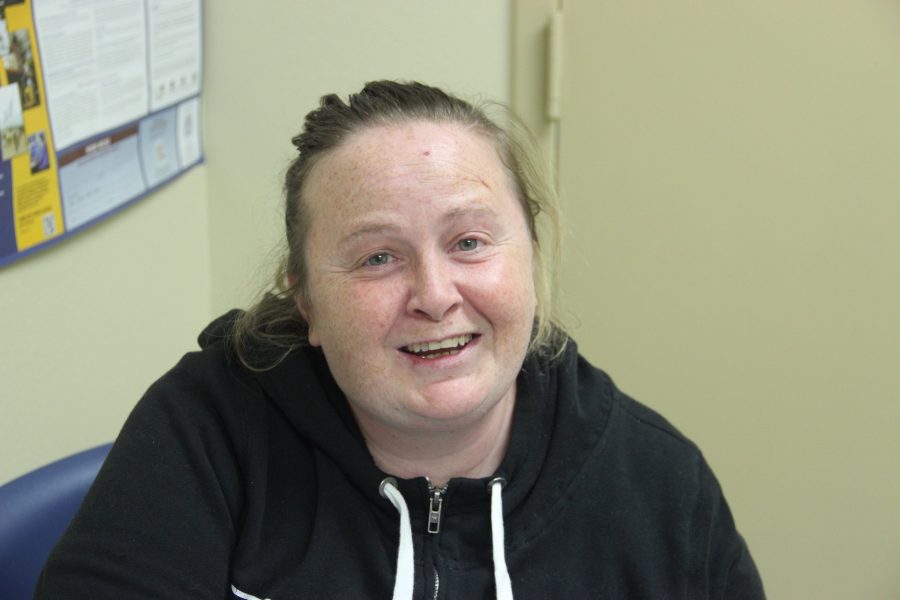 DALLAS- It is a cold December morning. Carolers stand in the commons, singing "Oh Holy Night" to the line of men and women waiting with plates in hand. In a back room, volunteers, led by a short, bustling woman, Candace Emery, fold clothes and unpackage socks.
For hundreds of homeless adults in downtown Dallas, Austin Street Shelter is a chance to find their footing, to get the help they need. For Emery, it is the place that saved her life.
"I actually walked through the doors as a client. It was two years ago," she said. "I was on a cot from June to the end of December [2014], so I was on a cot for six months, then I was moved across the street."
Emery, who fled from a domestic violence situation in her home state of Pennsylvania, took refuge in Dallas' primary homeless shelter and was eventually moved to Pathway transitional housing, just across Austin Street.
"I was always curious about Texas, I was in Philadelphia for 35 out of my 37 years and I was ready for something different," she said. "Don't get me wrong, it was scary, kind of like a Thelma and Louise type thing, just hop in the train, just on fate, but it was the best decision I ever made.
"There was just nothing [in Pennsylvania]. The homeless population is more concentrated, it's harder to get help. I did a little bit of research and this is where I decided to come."
Austin Street Shelter, located just outside downtown, is a nonprofit emergency shelter for men 45 years and older and women 18 years and older. According to shelter social worker Niki Prince, Emery's case is not the only of its kind.
"We try to provide safety and emergency shelter to Dallas' most vulnerable homeless," Prince said. "Each of our guests is a different story. There are different reasons why they're here and there are different barriers to getting housed. We have a lot of battered women who need a place to stay; people that are vulnerable because they just lost their jobs and just need to regain their footing."
Although she says every client has their own individual impact, Prince recalls one guest in particular that reminded her why she loves her job.
"Sometimes she would come in and sometimes she would stay out," Prince said. "I would feel that she was very vulnerable when she was not in the shelter. I assisted her and encouraged her to come in for services, and when she did come in we provided her with the help that she needed."
Through constant support from Prince, the client was able to receive an ID, social security card and help with mental health services.
"I'm a social worker by nature," Prince said. "Advocating for people, seeing the need, knowing that this is a hard job but somebody has to do it and just wanting to help people is the ultimate motivation for me."
Austin Street takes in up to 411 individuals a night, a task that heavily demands volunteers providing food, clothing and cots around the clock. Emery is one of the many volunteers that lives and works in the shelter.
Before becoming a full time resident and volunteer, Emery needed to secure housing, a process complicated because of her stolen ID card. Finally, after months of paperwork, she was moved into her first apartment.
Eleven months later, Emery decided to go back to the place that "saved [her] life". Beyond the broken state she was in when she walked in the first time, Emery entered the doors of the shelter a new woman, wanting to guide others in the same direction.
She now serves as one of the lead volunteers at the shelter, organizing the influx of help that comes in during the holiday season.
"This time of the year, people are willing to do a lot more reaching out," Prince said. "We get a lot of overlap of volunteers wanting to feed or bring coats or bring blankets."
On a given winter morning, Austin Street is filled with volunteers of all ages, serving food, folding and organizing clothes for giveaway and even singing holiday music to lighten the mood for clients that have to spend Christmas in a shelter without family or friends. During cold or rainy nights, the shelter often houses at capacity.
"Unfortunately, sometimes, it can be kind of depressing for the guests to see [volunteers] coming out, but none of their family," Prince said. "They're missing family time. But it's uplifting in another way for them to know that they are not forgotten about."
From her desk by the entrance to Austin Street, application services representative Deborah White is able to see some of what brings happiness to the faces of clients during this time.
"It can be very, very exciting when they get their housing," White said. "It can be very, very exciting when they get a job, because a lot of the clients are looking for employment. A lot of them have been here anywhere between three and six months, just trying to qualify for a program for housing, so when they get their apartment and they get their voucher and they get their key or their apartment passes inspection, then we celebrate."
Emery's celebration continues. With the help of the shelter that gave her a home and a job, she is now completely self-sufficient.
She stands as a symbol of promise to all who enter Austin Street.
"When you have that person walking through the doors for the very first time and you see him or her and you know they're scared, I can tell them from personal experience, 'look, it's going to be OK, you just gotta stick with it, stay focused and you can do it," Emery said.
It is a cold December morning. Carolers stand in the commons, singing "Oh Holy Night" to people seated. And now, thanks to people like Emery, they have food on their plates and hope in their hearts.