Chills360 opens with blast of good taste (with video)
New rolled ice cream technique makes its way to Dallas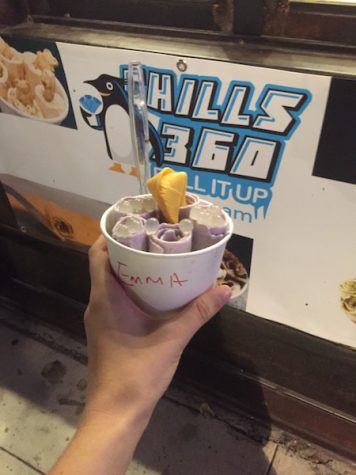 DALLAS- If you blink, you might miss the newest ice cream place to open in Dallas, Chills360. With only small cardboard signs to advertise their business, Chills360 was more easily recognizable by the long line that led from their entrance.
After opening Oct. 21, Chills360 has brought a new technique of ice cream making to Dallas.
Originating in Thailand, the ice cream process is quite different from familiar techniques. A special mixture is placed on ice cold slabs with a certain element of the chosen flavor, such as a strawberry, Kit-Kat or raspberries. The ice cream maker waits for the ice cream to solidify for a few seconds, then proceeds to chop the ice cream until it has a thick consistency. The ice cream is then smoothed out on the slab and rolled into about four or five rolls.
The atmosphere is just right. Situated on Elm Street in Deep Ellum, Chills360 is right next to the famous Glazed Donut Works. Both provide a different spin on a classic dessert. Although the actual shop is quite small, it is adjacent to an enclosed courtyard (which is, admittedly, unrented office space). Kids and parents are able to rest on the benches, listen to music coming from the creamery and wait for their ice cream rolls.
I figured since I was in a new ice cream place I should order a different type of flavor than usual. So, I ordered a 'Matcha Made in Heaven' which was green tea and raspberry. However, they unfortunately mixed up orders and gave me 'Ice Ice Baby' which was taro and lychee.
This mix-up worked out, however. The taro and lychee combination was just perfect. The ice cream rolls were smooth and creamy, eating each bite seemed like a new experience in and of itself and I was not sure if I was eating ice cream or something new entirely.
All servings were $7, which may be a bit of a downside for high school kids on a budget. But, for the few special occasions that one can be a little extravagant, Chills360 is a great way to spend the money.
I definitely plan on coming back to Chills360. Their flavor combinations and new style make the eating experience completely different.
About the Contributor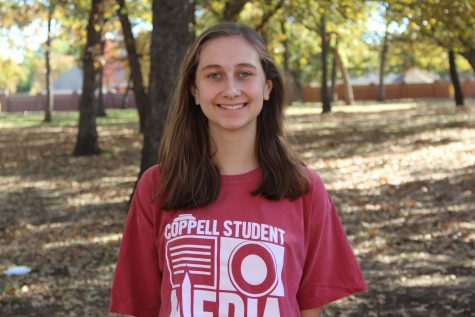 Emma Cummins, Executive Opinions Editor
Emma is the Executive Editorial Page Editor at The Sidekick. She enjoys politics, writing and traveling.