Lobbing for love
Coppell tennis community gathers for inaugural tournament, raises breast cancer awareness
A fuzzy yellow ball comes whizzing down the court. Sweat trails down your back, but your focus does not waver. Your eyes follow the ball and your racket strikes with a satisfying thud.
With each strike of the ball you are playing for the memory of loved one affected by cancer.
In honor of a parent. A relative. A teacher. A friend.
On Saturday, Wagon Wheel Tennis Center hosted a breast cancer awareness tournament in light of October being National Breast Cancer Awareness month. This event is a small part of a large movement, by Rally for the Cure®.
Rally is a grassroots program that uses volunteer organized sports, such as tennis and golf, to raise awareness about breast cancer. According to its website, over 2.5 million people have been involved in the effort of creating over 45,000 events nationwide raising more than $77 million in donations.
An effort such as this requires collaboration between different organizations in Coppell, especially since the tournament was planned in a short time frame. Sandra Lindstrom works with the nonprofit organization Tennis in Coppell, a sponsor for the Rally event.
"Rally for the Cure, Wagon Wheel Tennis Center and Tennis in Coppell all partnered to produce this event," Lindstrom said. "It has been about 60 days since we have been planning for it."
Although this is the first time the Rally event has been held, the organizations have high hopes for fundraising and a vision for the years to come.
"We are hoping to raise about a $1,000 today," Lindstrom said. "I think we will come really close to it. We are planning to do it next year too and we are going to learn from whatever happens this year."
Lindstrom hopes more high school tennis players can come out to support the effort next year, perhaps as a community service project.
Sylvia Tapia, a breast cancer survivor, is a member of the Coppell Tennis adult league. Although she did not play in Saturday's event, she shared valuable insight about cancer diagnosis and treatment.
"The most important thing is to always do checkups, even when you are young," Tapia said. "You can start knowing yourself and every year you go to your doctor allow him/her to do the exam."
"
The most important thing is to always do checkups."
— Sylvia Tapia
Tapia emphasized regular exams can be the difference between a curable and an incurable cancer.
"When it's time, you start doing mammograms," Tapia said. "It is very important to do it every year so they can see the [body's progression from year to year]. You want them to find [the cancer] when it's in an earlier stage and the only way they can do that is by comparing."
It was truly heartwarming to see the turnout and the tennis community's support.
"[The event] is very exciting," Tapia said. "It's the first time. It's amazing how many people have been affected by this problem within our community. It's very important to have that awareness."
Coppell resident Vanathy Lakshmi think the event fostered a sense of camaraderie.
"It actually feels very much like a family reunion," Lakshmi said.
"
It actually feels very much like a family reunion"
— Vanathy Lakshmi
Brenda Rhodes is an avid tennis mom who came out on Saturday to watch her daughter, Amber, play tennis.
"My daughter loves to play tennis," Rhodes said. "She is playing in honor of one of my friends that has breast cancer. [My friend] just found out recently and she is a 33-year-old mom with two kids. The event is just a great chance to play for fun."
Survivors, volunteers, competitors and even spectators came together to commemorate those who they have lost to cancer, support those currently fighting cancer and strengthen those who may face the fight.
Follow Akila @akilam29.
About the Contributor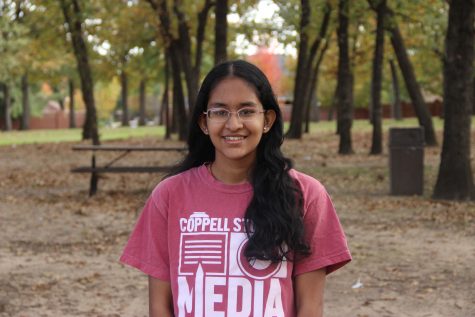 Akila Muthukumar, Staff Writer
Akila Muthukumar is a sophomore who loves writing, dancing and learning new things. You can contact her at [email protected]