Passionate, dedicated senior Manandhar establishes Soccer for Nepal organization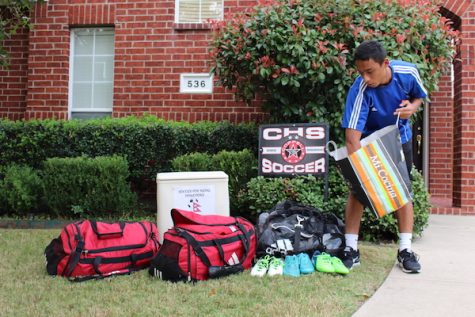 A sharp jolt of movement causes the lights to sway in the house, followed by a violent shaking that quickly passes. Since such occurrences are common in Kathmandu, Nepal, people are not phased by these incidents. They have adapted by altering their lifestyles, specifically arranging their homes, taking protective measures and enforcing strict building codes.
"
Just seeing the kids being happy and smiling is the most rewarding aspect, my family in Nepal tells me the kids call me 'big brother'," Manandhar said. "It's just nice to give someone the opportunity that you had to play soccer."
— Bishesh Manandhar
But regardless of the prior planning, no one could brace for traumatic aftereffects of the Nepal earthquake of April 2015.
While watching in horror along with the world, Coppell High School senior Bishesh Manandhar took initiative by fusing his love for soccer with helping those in need and established Soccer for Nepal.
A witness of Nepal's worst natural disaster in 80 years, the 6,104 person death toll, 14,000 injured and 2.8 million displaced people, the horrific catastrophe incentivized Manandhar to bring his vision to reality by his junior year.
His initial inspiration for the organization came from his trip to Nepal in the summer of 2009 when Manandhar played pickup soccer in a Nepali village.
"I saw a little boy and every time the ball went out of bounds, he would run over and get it and he had no clothes, I could see he was very poor and skinny," Manandhar said. "I was thinking, he probably doesn't have a family, enough food, yet he is so happy, chasing this ball around,"
Manandhar's parents have been very supportive of his effort, assisting with the paperwork required to establish a 501(c)(3) non-profit, his family members in Nepal distribute the donations to different soccer programs and friend in Nepal takes pictures and videos to showcase the organization's progress.
"Not many people have the opportunity to play soccer and when they do play, they don't have shoes," Manandhar said. "Maybe if I could develop soccer in Nepal, other things can start growing and developing, that was the goal."
Since its launch, the program has helped three youth programs of various ages mainly located in Kathmandu, the nation's capital.
Manandhar's personal soccer journey started in 2009 and he currently competes at high level on both his club team, the Texas Tomahawks, and high school soccer as a three year member of the 2016 Class 6A state champion Coppell varsity team.
The Cowboys soccer program receives new soccer jerseys every two years, causing an accumulation of lightly used apparel which was donated to Soccer for Nepal with the help of Coppell soccer coach, Chad Rakestraw.
"Bishesh is just a leader by example, he does everything that you want from a player," Rakestraw said. "His work ethic is always not even in question, his attitude, and coachability. For us, Bishesh is a great example for all players,"
His extracurricular accomplishments, stellar academics such as recently being named a National Merit Commended student and humble persona has established him as a role model for many underclassmen.
"Bishesh is probably one person I really look up to, he has a great future and beyond that, he is a great soccer player, academic student and always wants to help you out whenever he can," Verma said.
His respect for the game and dedication is not only observed by his peers and coach, but was also noted by the president.
"I thought it was pretty cool and it's pretty neat that out of the million messages [Obama] gets, he actually got a response from him," Rakestraw said.
Most importantly from the experience of starting an organization, Manandhar has personally gained a higher degree of appreciation for the game which most take for granted.
"Just seeing the kids being happy and smiling is the most rewarding aspect, my family in Nepal tells me the kids call me 'big brother'," Manandhar said. "It's just nice to give someone the opportunity that you had to play soccer."
Leave a Comment
About the Contributors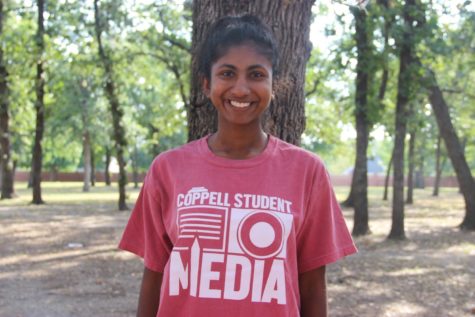 Tanya Raghu, Enterprise Editor
Tanya Raghu is a senior and third year staffer on The Sidekick. In her free time, she enjoys spending time with friends and family, watching movies and...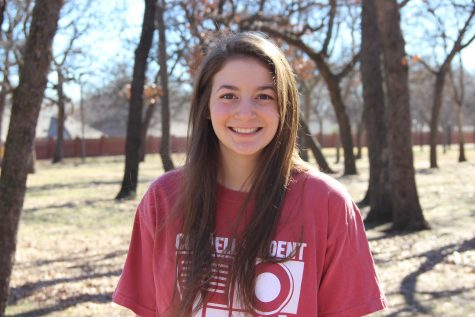 Aubrie Sisk, Communications Manager
Aubrie Sisk is a senior at Coppell High School and the Communications Manager for The Sidekick. She's played piano for eight years and has a passion...