Offense pulls Cowboys away in first half of blowout homecoming win
"We've been talking about it all week, speed kills," Matt Dorrity said.
Sprinting up the seam, the senior wide receiver used his blazing speed to torch the Richardson Pearce safety, breaking past the defensive secondary with ease and catching a beautiful 55-yard pass from junior quarterback Brady McBride to score on the first play of a drive for the third time in the last four possessions.
This scoring stretch put the Cowboys ahead 28-3, and they never looked back, defeating Richardson Pearce 48-16 to gain their first district win in the homecoming game.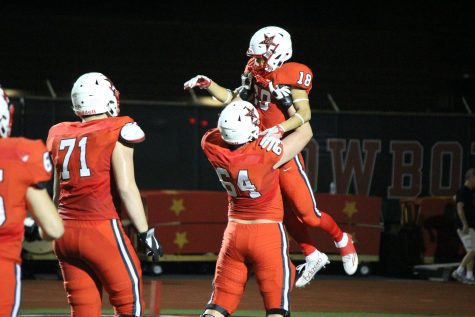 "We were going to try to exploit them this week," Dorrity said. "We're going to try to pound the rock, and we're going to try to take our shots too. The shots were there, and we got some good passes and good catches, and we got some deep touchdowns. We're thankful for those opportunities."
Prior to Dorrity's score, late in the first quarter, sophomore wide receiver Blake Jackson caught a 44-yard bomb from McBride to go up 14-3, then on the first play of the following possession, took a screen pass 37 yards for another score.
"When you're able to run the football, you're able to do play action, get the safeties to bite on the run game and throw over the top of them," Coppell coach Mike DeWitt said. "It all starts with our offensive line and being able to run the football. That was the gameplan, and it worked out."
After a poor week in last week's 41-10 loss to Jesuit, the defense came back and dominated from the start, allowing only 11 rushing yards in the first half. Aside from two long drives, the Coppell defense was stifling throughout.
"Going into Jesuit, we had a weak mindset," senior safety Skyler Seidman said. "We came in there, thought we were going to blow them out, not a lot of guys were focused. The difference maker [today] was we were a lot more focused. We needed this district win, it was a must-win for us. We played a lot more physical."
In addition, the defense picked off senior quarterback Gray Rodgers three times, including a 60 yard pick-six from senior defensive back Ben Goyne that put the Cowboys ahead 38-9 midway through the third quarter.
"The kids responded [from last week]," DeWitt said. "The kids came out, and they were very focused. They played well."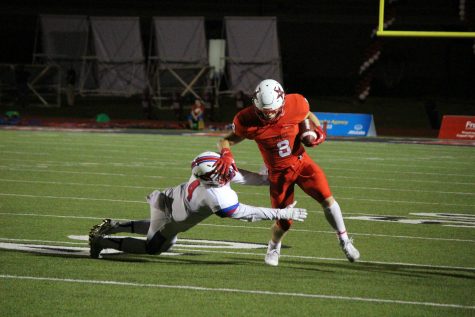 Next week, Coppell travels to Lake Highlands (1-4, 1-1) after the Wildcats suffered a big 35-7 loss to Skyline (2-3, 2-0).
"This is a great building stone, with the confidence," Dorrity said. "It was a rough week last week, but coming in here on homecoming, giving it our all, executing the gameplan, it's definitely going to give us the stepping stone so that we can go all the way to where we want to be at the end of district [play]."
Leave a Comment