DogFest promotes O'Day, others with service dogs
A year ago, 15-year-old Adam O'Day stood on a stage at the Canine Companions for Independence, talking about what his dog Tyler had done for him and his autism.
Several years ago, speaking in front of 400 people would not even have been a possibility for him. On Saturday, Oct. 1, Adam will again be able to share his story at this year's DogFest.
Due to his autism, Adam struggles in social situations that involve communication in a public setting skills. However, through CCI, Tyler has been able to completely turn his life around.
CCI, an organization that provides assistance dogs for people with disabilities, breeds dogs then sends them to "puppy raisers" around the nation. These volunteers function as temporary owners that teach the dogs basic commands and take care of them for around 18 months.
"When a person is able to see where the puppy is going to and how it is able to help someone, it really is changing their life," Coppell-based puppy raiser Lisa Sawyers said.
It has been almost three and a half years since Adam's family first took home the black lab. Previously, they had to go through an 18-month application and waiting period with CCI before being matched with Tyler.
"The application process is a little long," CCI Dallas public relations/development associate Courtney Craig said. "[The trainers] look at the dogs they have, and what type of dog they think they could be. They invite applicants who they think would be a good match."
After traveling all the way to California to go through two weeks of training with Tyler.
"I was really nervous," Adam's mother Anna O'Day said. "We had just gone through the application process and waiting period, and I got the call inviting Adam and I to training, and we were so excited."
The two packed their bags and headed out to the coast, where Anna described the environment "like a family." For two weeks, Anna and Adam learned about how to take care of Tyler, all the commands and how to help them bond.
"At this point, I still couldn't have imagined what a special bond this dog could've had with my son," Anna said. "He helps him in ways that we wouldn't have even known to ask for in our application. We've seen benefits for Adam from Tyler that we didn't even know were possible."
"He's increased [Adam's] confidence, and he provides unconditional love, and it's just really sweet," Anna said. "He's his best friend."
On Saturday from 9 a.m. to 12 p.m., the O'Day family and others will converge at the Kinkeade Campus in Irving for the DogFest Walk N' Roll, CCI's signature nationwide fundraiser event. The event will feature food, live music, and events for dogs and humans alike to enjoy.
"We only have one in Texas right now, so this is our second one," Craig said. "It's a big fundraiser event. It's a 'Walk-and-Roll', but really the main point of the actual event is the festival.
"It's our biggest fundraising event. It's definitely a really really big deal. Since it's our second one, we're hoping it will just keep getting bigger and bigger."
Leave a Comment
About the Contributor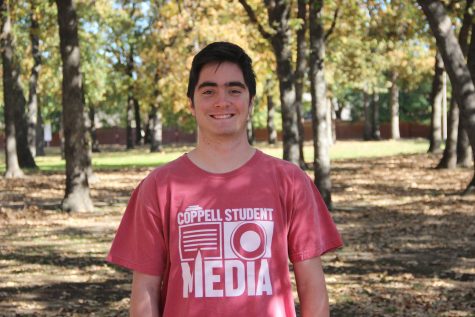 Marcus Krum, Executive Sports Editor
Marcus Krum is a senior at Coppell High School. In his third year on staff, he is the sports executive editor. In his years on staff, he focuses mainly...