Homecoming 2016 events, dance preparations underway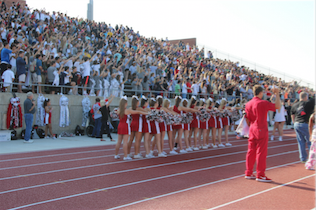 A tradition that began in the early 20th century as an invitation of college alumni to revisit their alma mater, homecoming has blown up into a series of city-wide events and extravagant decorations across the country.
Every year during the week before the homecoming game and dance, tradition brings several temporary changes to Coppell High School.

This week, known as "spirit week", you may find students walking the halls in onesie pajamas, wearing a Superman cape, or donning senior overalls. The different dress up days are coordinated by CHS student council and change each year with the intent of raising school spirit before the game and dance that weekend.
Several homecoming-centered events are taking place this week beginning with the annual homecoming parade on tonight at 6:30 p.m. Friday, school will begin with a pep rally where the this year's homecoming court will be announced.  Festivities continue at the Homecoming game versus J.J. Pearce at 7:30 p.m. at Buddy Echols Field.
Homecoming week will conclude with a "Night Under the Stars" themed dance Saturday from 7-11 p.m.  at Dallas Market Hall. Attendees will be surrounded by sparkling decorations and decorative lights all organized by the CHS student council.
"I feel like this year's theme is super artsy," junior student council historian Christina Liu said. "The decorations are going to be super pretty and I'm just excited for the aesthetic of the entire dance."
Tickets for the Homecoming dance are being sold during all lunches this week at the concession stand in the commons for $30. Tickets at the door will be $35.