Cowboys catch tough breaks, run out of fuel in loss to Allen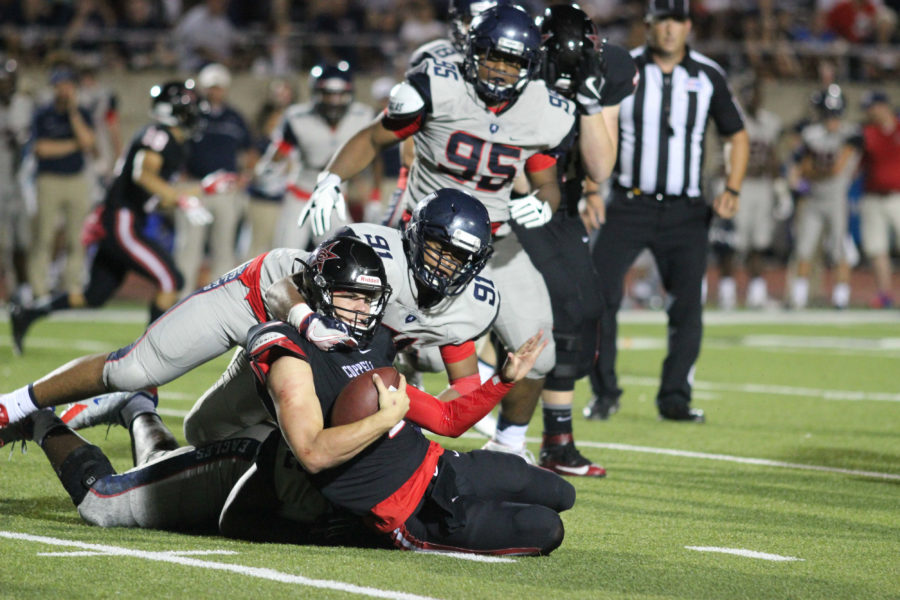 It was just one of those nights.
Whether it was trips to the red zone ending in only three points, or missed offsides call that would have given the Coppell offense a first down, the Cowboys (2-1) simply could not catch a break, falling to the state no. 2 Allen Eagles (3-0) 42-20 on Friday night.
For Coppell, the misfortune began late in the first half. After sophomore kicker Caden Davis nailed his second of two field goals with 59 seconds remaining in the half, the Cowboys looked like they would head into the locker room only down 14-13. However, Allen drove 80 yards in only 50 seconds to go up by eight.
This lead, that would eventually help Allen pull away late, came after Coppell stuck with the Eagles for much of the first half. Allen struck first early on, but the Cowboys came roaring back with a 30-yard touchdown pass from junior quarterback Brady McBride to sophomore wide receiver Jonathan McGill. On the ensuing kickoff, senior kicker Kevin Madigan recovered a fumble on the Allen 28, setting Coppell up with great field position.
"It gives us huge confidence, knowing we can hang with the no. 2 team in the state," McGill said. "We just went out there and did our thing."
However, just as it would happen late in the second quarter, Coppell could only come up with a field goal on that drive, getting stifled by the top-tier Allen defense.
Early in the third quarter, after getting two defensive stops, the Cowboys were able to pull within a point once again, scoring on a 49 yard on-the-run touchdown pass from McBride to junior wide receiver Gabe Lemons.
"We were confident going in, and the entire time," Coppell coach Mike DeWitt said. "We felt like we were going to be able to play these guys, and we have some great kids and they played really hard."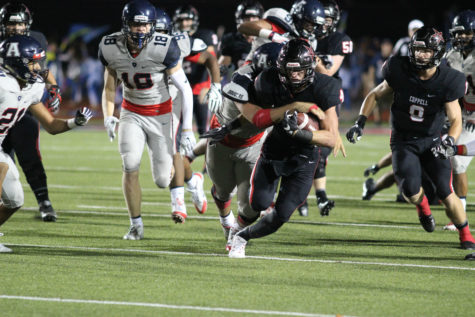 Later in the third, Allen scored again to take a 28-20 lead heading into the fourth quarter. With the ball around midfield on fourth down and three, the Cowboys elected to go for it. McBride drew an Allen defender offsides, then, because of the imminent penalty that would give Coppell a first down, tried a long pass that fell incomplete. However, the flag was never thrown, giving Allen first and ten with great field position.
"[The referee] admitted to me, he said, 'I missed it coach, I missed it," DeWitt said. "That happens, but that was big."
Allen, feeding off the momentum gained from the turnover on downs, drove to score, going up 35-20. At this point, the Coppell defense had simply run out of energy.
"We got tired," DeWitt said. "We just couldn't tackle well in the end."
Allen would score again late, ending the game with a 42-20 victory over Coppell.
After a bye week next week, the Cowboys head into district play against the Dallas Jesuit Rangers, a very solid all-around team that is still looking for its first win on the season.
"We really need to be in the weightroom, staying healthy, staying fit," McGill said. "Jesuit's a good team, and we're going to need to make plays against them."
About the Contributors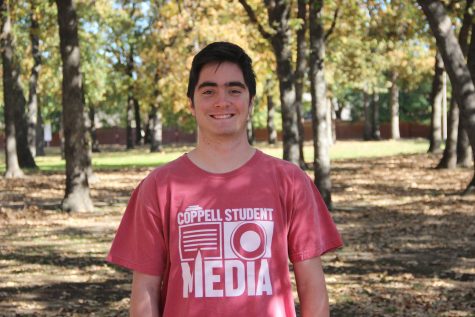 Marcus Krum, Executive Sports Editor
Marcus Krum is a senior at Coppell High School. In his third year on staff, he is the sports executive editor. In his years on staff, he focuses mainly...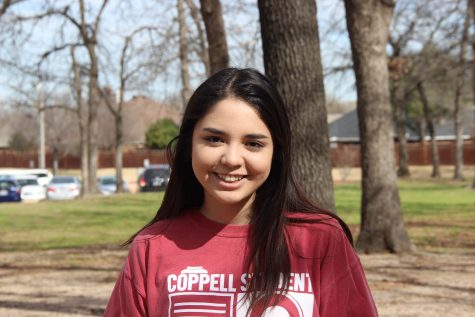 Kelly Monaghan, General Photography Editor
Kelly is a senior at Coppell High School and the General Photography Editor of the Sidekick. She is an expected diploma candidate in the International...