Vergien ponders deeper questions, travels across the pond
Here in Coppell High School, many are unaware of the world that is just outside of the Coppell city limit.
For CHS English teacher Michael Vergien, the love of an adventure keeps him moving; Vergien, and his family, will be moving to a small town in England next year.
Although unsure of what town he, his wife and two daughters, Katelyn,11, and Laurelai,12,  will be moving to, Vergien will be accepting a new teaching position at the ACS Cobham American Community School, an International Baccalaureate school. Vergien and his family will be moving to a small town somewhere in the nearby area.
"[I'm leaving] to experience a different culture and be so close to many different cultures," Vergien said. "It's going to be amazing for not only myself, but my family."
While this opportunity is a once in a lifetime offer, Vergien will be missed; the community he was a part of will be something he will always remember.
"From working [at CHS] for 10 years, I've built some great relationships with not only students but parents and whole families," Vergien said. "It's been a great experience to build those relationships over the years."
Vergien recalls that he had at one point taught four siblings from the same family and enjoyed living in such a tight-knit community.
Vergien's teaching style was also very distinct while at Coppell High School, which is something that IB Head Coordinator Michael Brock fully agrees with.  
"[What stands out is] his complete and unfailing dedication to delivering a quality learning for his students," Brock said. "Away from the classroom he loves to talk about books, talk about education and teaching; it's just kind of an extension of the way things work in his classroom."
Vergien shares many close relationships with his students, in large part to his dedication to their learning.
"He makes an effort to have a personal relationship with a student," CHS junior Murphy Scott said. "He really cares about learning rather than grades and that's something I admire about him."
Vergien may not have stressed grades in his class, but places more emphasis on something entirely different.
"I've had a lot of students tell me that they liked not that I taught them about Hamlet but that I talked to them about life," Vergien said. "It was about connecting what we did academically in class to life."
Vergien challenges all his students to think, rather than memorize.
"My class wasn't about knowing something about a piece of literature but to see the broader picture and have a broader understanding," Vergien said.  
A ground zero teacher in the founding of IB at CHS, Vergien will miss the program, and the program will, arguably, miss him just as much.
"I was very open with him about the fact that I was pulling against him and hoping it wouldn't happen," Brock said with a good-natured laugh.
But that would change as Brock saw how incredible this opportunity was.
"I was thrilled that it worked out and it's gonna be a wonderful opportunity for him and his children," Brock said. "But it's bittersweet to lose someone like that."
Vergien leaves many memories at CHS, many of them in the IB program, but the adventure will not stop here.
"Maybe I spend two years in the UK, maybe I spend seven, maybe I spend two years and then get a job in Germany," Vergien said. "The adventure of not knowing what's going to come [is exciting] and I'm excited about so many possibilities being opened up."
About the Writer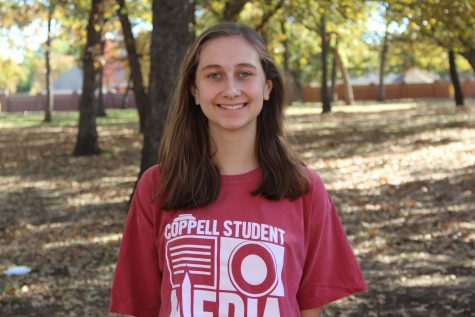 Emma Cummins, Executive Opinions Editor
Emma is the Executive Editorial Page Editor at The Sidekick. She enjoys politics, writing and traveling.