Senior Award Ceremony commences in the new arena
The stands filled with sophomores, juniors, parents and teachers, who stared down upon the current seniors awaiting for the ceremony to commence. They fumbled in their seats and pointed down toward siblings or friends they recognized.
The arena was crowded with seniors who sat in their alphabetically organized seats. They turned their heads looking at their class with big eyes. They looked up toward the sophomores, juniors and parents smiling and waving. Butterflies fill their stomach as they brush their fingers through their hair. The end is almost here.
Coppell High School Principal Mike Jasso cleared his throat and stood in front of the senior class, on the podium placed above them, commencing the ceremony. After he welcomed the audience, seniors Neha Purandare and Morgan Widner began the pledges with Ashleigh Little signing along. After the pledges, senior Ari Randell sang a Florence and the Machine song, Dog Days are Over, and the awards section of the ceremony began.
Jasso emerged the podium, again, announcing the current leaders of Coppell High School and thanking them for their service in leadership. And this continued with assistant principals announcing students who obtained scholarship, the IB Coordinator announcing top 10 percent, Debbie Fruithandler announcing National Merit Scholar, and many more leaders praising these seniors. There was also a section where all the clubs and sports nominated one or two students that excelled expectations and were a prominent part of the system.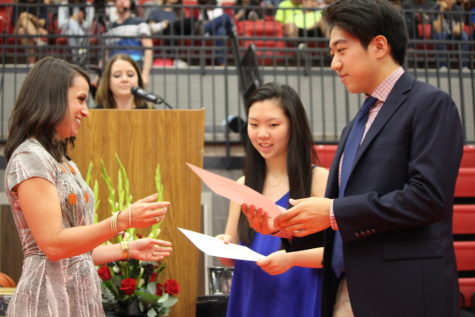 After the scholarship opportunities and the announcement of select individuals who were ideal students selected by each organization, the top 10 and the end of the year awards were given.
Jasso began the presentation of the top 10 by explaining who and what they were. He stated that these students "had the highest GPA and spent countless hours working in and out of school to achieve this challenging academic marathon."
He started with number 10 and moved to announce valedictorian Pooja Marella. The crowd erupted into cheers as she received her medal.
After the announcement of the top 10, Jasso presented the awards to exemplary students. These awards recognize students who followed the motto, exemplified the most pride, had a large community impact, and he lastly announced Mr. and Miss. CHS, "a high prestigious award," seniors Josh Fink and Caroline Riley.
"It's an awesome feeling," Fink said. "It's really cool, it's awesome, this award. I'm really thankful for the faculty that votes for me. And it means a lot to me."
And Riley was shocked.
"It's incredible," Riley said. "I think it's a very surreal feeling though; I didn't expect it all."
After the announcement of the award, Caroline's parents beamed proud of their daughter's work.
"I'm very proud of her [Caroline]. Last year she had a really tough year," Dahlia Riley, Caroline Riley's mother, said. "She had a concussion so she has to work extra hard to get back on the court and her academics. I'm just so proud of her. I've always told her stay true to your convictions and your integrity, and it will pay off."
The ceremony wrapped up after the announcement, but award recipients stayed back to take pictures.
After the ceremony junior assistant principal Jamilia Thomas remained behind congratulating seniors and smiling at the students she had had time to sit down and talk to.
"Although I've been here for only two years, there has been a few select students here that I've grown really close with and have seen them grow from last year to this year," Thomas said. "It's absolutely amazing. For any graduating class, they take a little piece of your heart,"
And award recipients took pictures with their friends and family. One of these happened to be senior Linda Castanova.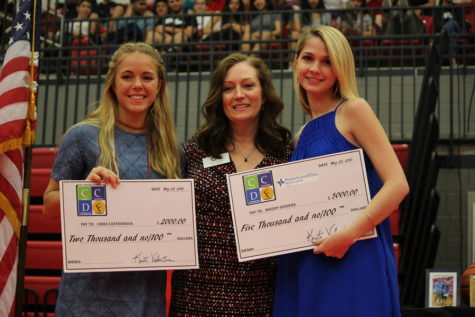 Castanova was recognized for the CHS Motto Award and was recognized as a key part of the Lariettes program. She was nervous, but liked seeing her senior class united together before graduation.  
"I was a little nervous, but it was honestly really cool to have everyone in our grade in the same room and get to see everyone's accomplishments," Castranova said. "It was very humbling to be part of a bigger group of kids. It was a special moment."  
Castronova was definitely amazing and enjoyed the ceremony.
"It was definitely cool to have the first senior class award ceremony in the arena," Castranova said. "It definitely made the program feel more special, almost like a bigger deal.
The Senior Award Ceremony shows the end of school approaching. With this the seniors will graduate and head off on new paths.
"It all went by really fast. It was crazy looking back on it all now, but I'm excited for my next chapter at [Abilene Christian University]. I also had a great experience and wonderful memories at Coppell," Fink said.
To contact, Farah can be found at [email protected] or @farahmerchant_ on Twitter.
About the Contributors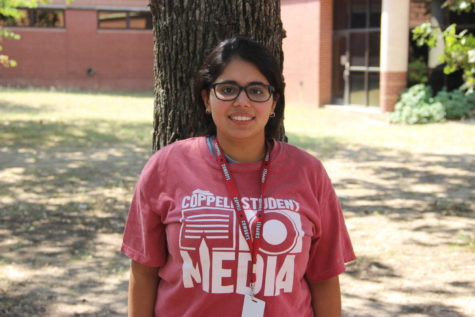 Farah Merchant, Co-Student Life Editor
Farah Merchant is a senior and third-year staff writer and Student Life Editor on The Sidekick. She also works for the Citizen's Advocate, the local Coppell...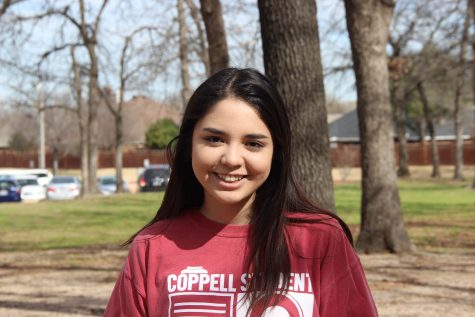 Kelly Monaghan, General Photography Editor
Kelly is a senior at Coppell High School and the General Photography Editor of the Sidekick. She is an expected diploma candidate in the International...