Rally Week winners
by Ashley Attanucci
Staff Writer
Monday, Feb. 1st marked the first day of Rally Week at Coppell High School. It was an event organized by our Student Council of which giant posters adorned the halls weeks before hand, announcements updated Blackboard and brochures and candies were handed out to advertise the big week and specifically advertise Thursday, Feb. 4.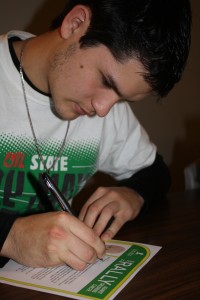 Yesterday, MAP day Thursday, all CHS students rallied together with their MAP peers to write letters to family, friends and acquantances advertising the Rally Against Childhood Cancer, promoting awareness and asking for donations to St. Jude Children's Research Hospital to help fight childhood cancer. Each class (freshmen, sophomores, juniors, seniors) was in a competition to win an off-campus lunch and each individual was in the running to win 3rd, 2nd and 1st place prizes determined upon how many letters he or she completed.
The winners were excitedly announced by Mr. Hunt this morning:
Sophomore Brindan Martin won 1st place with 100 letters; senior Cara Mullinax took 2nd place with 81 letters; and Ashley Low snagged 3rd place with 71 letters.
Sophomore class earned an off-campus lunch (date to be announced soon) by writing the most letters overall.
And teacher Melissa Allen won a 2 Night Romance Packaage with Breakfast from the Garden Inn Hilton of Lewisville for her dedication to the event.
There was also a drawing for all those who participated in Rally day with a minimum number of letters, up for a free Wii, which senior Lindsay Zabojnik won.
Congratulations to all the winners and to the rest of CHS for all the hard work put into this good cause.