Defensive pressure creates solid foundation to advance Coppell to state final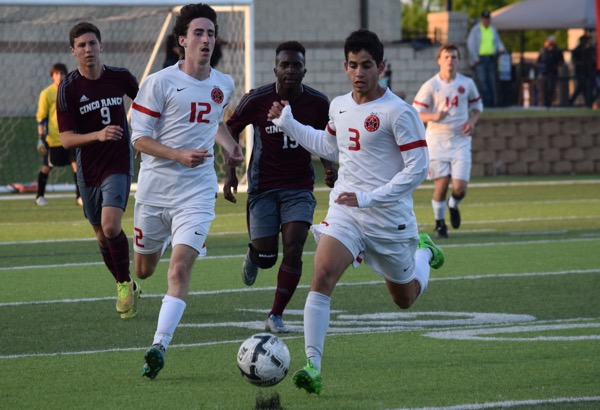 GEORGETOWN – Determined to keep the ball in their possession, the Coppell Cowboys soccer team were patient to find the perfect opportunity for an attack.
Finding an empty space near the box, junior forward Nick Taylor charged the goal, getting fouled and giving Coppell a penalty kick. The ball swiftly sailed to the back right corner of the net and the first score was on the board in seven minutes.
The Cowboys (23-0-2) stayed consistent in their attacks against the Katy Cinco Ranch Cougars (18-3-6) to take the win 1-0 in the Class 6A state semifinal at Birkelbach Field. The Coppell defense was able to hold strong as they move to the state final, the Cowboys will compete against Lake Travis at 6 p.m. at Birkelbach Field.
"Taylor did a great job moving to the box and getting fouled there and having the composure to finish that PK," Coppell coach Chad Rakestraw said. "You would have hoped getting that goal would swing the momentum to where we could find a second goal. As time went on, and they moved further and further away from that goal, but we did a really good job of limiting their opportunities."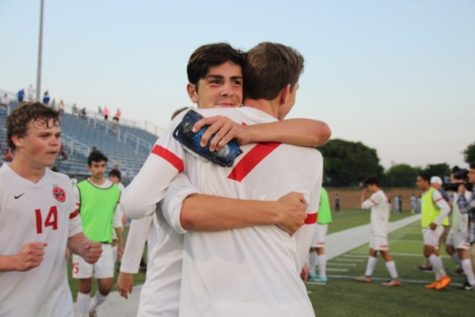 Cinco Ranch had few chances to score, and senior keeper Jerod Longoria made saves easily. Throughout the entire match, the Cowboys played remarkable defense, keeping the Cougars on defense for majority of the match.
"It was amazing, being able to help my team and the feeling that we're going to the state finals is so amazing for us," Taylor said about his goal. "I think our defense really helped our momentum on offense knowing they had solid backing."
Clutch defensive and continuous pressure kept the match in the Cowboys favor.  The first half the Cowboys were solid with their attacks to keep the Cougars off their territory. Multiple saves and headers by senior defender Brandon Bohn kept them in the same rhythm from the regional games as their aggressiveness gave them control for their possessions.
"Brandon was huge defensively for us," Rakestraw said. "Taylor had some signs of brilliance, but [senior midfielder] Scott Simigian did such a  great job and huge effort everywhere winning most first balls. To be able to hold them in the first half was really good momentum for them in the first 15 minutes."
The physicality of the match became more prominent as the Cougars became hungry for a goal and the Cowboys got stronger defensively.
Consistent with each possession, Coppell showed energy to maintain their offense, and were able to clench the 1-0 victory.
"Tomorrow I think we just need to keep that defensive momentum going, we had a really strong first 10 minutes, we just need to keep that energy up throughout and I think we're set," Taylor said.