Kodros deals in 2-0 win to keep Coppell No. 1
The Trinity Trojans (11-10 overall, 2-7 district 7-6A) had an ample amount of chances to win the Tuesday night contest at the CHS Complex against the No. 1 nationally ranked Coppell Cowboys (21-0, 7-0), yet junior pitcher and LSU commit John Kodros wasn't having any of it. A final score of 2-0 had Coppell come out on top behind a stellar line by Kodros (83P, 10K, 3BB, 1H, 7.0IP).
      The game was never in doubt as the Cowboys took the lead after their lead-off batter junior outfielder Texas Tech commit Cody Masters hit a solo home-run over the right field fence on the third pitch of the at-bat.
Coppell assistant Coach Clint Rushing was proud of his junior pitcher.
"When the team that you're playing doesn't score you can't lose." Rushing said, "You feel like if the offense can score just a few then we will be just fine."
Senior outfielder Ben Kelly then scored two batters later when senior Dallas Baptist commit pitcher/infielder Ray Gaither hit a line drive double off of the left centerfield wall. That would effectively cap off the offensive production for the game as Coppell only had three hits the entire rest of the game.
Kodros threw 57 strikes on 83 pitches, a very efficient outing that displays how he can command his pitches and pitch to contact to let his defense work behind him. The highlight defensively of the night came when Kodros knocked a ground ball down that eventually rolled to second base where junior utility player Holden Rupley barehanded the ball and  made the throw to end the top of the fifth inning.
Sophomore pitcher Rye Gunter admires Ripley's ability to play different positions.
"It's really fun to see him go out on the field and make plays in all situations," Gunter said. "He is a true leader through the way he accepts all different types of roles on the team.
Coppell looks to sweep the series and remain undefeated when they play Trinity at Trinity High School at 7 p.m. this tonight..
About the Writer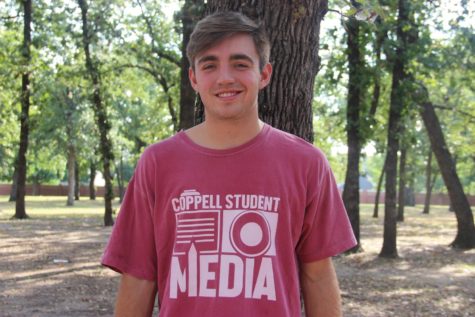 Reid Valentine, Sports Copy Editor
Reid Valentine is a third-year staffer on The Sidekick who is mainly a sports writer with a passion for feature stories. His dream since being a child...