College Series: How to utilize every inch of your dorm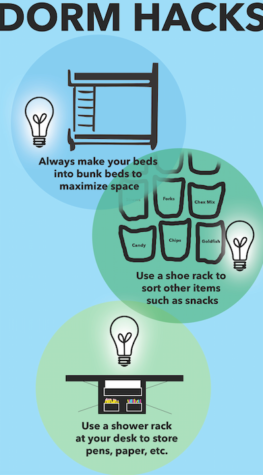 Rachel Buigas-Lopez
According to The New York Times, 69.5 percent of the students that go to high school attend college right after graduation or a few years later. Since almost every college requires students to live on campus for at least one year, here are a few tips and tricks you can use to help make that small space fit all your needs.
Make bunk beds: If you have a roommate then most likely you will be given the standard two single beds. You can easily add one bed on top of the other to create bunk beds (make sure it is OK with you floor advisor first). This gives you more space for other necessities like a mini fridge, sitting area or, especially for girls, more space for clothes.
Shoe holder: While using the a shoe holder can be used for its intended accessory, there are many other way to utilize it. Since most dorms do not come with a kitchen or cabinets you can use the shoe holder different snacks or microwavable foods that you and your roommate love.
You can also use it to lay across the bottom of your bed so you have some rows available off the side of your bed. You and your roommate can each have your own so you can easily separate food or anything you decide to store in them.
Shower Rack: Dorm rooms also come with a desk, or two if you have a roommate. Often times the drawers do not work and the desk does not have enough space for everything on top. Hang a shower rack over your desk and you instantly have a unique and cute way of storing all your desk supplies.
You can also use this over your bed or anywhere else in your room where you need the extra storage space.
Tupperware: This can become your best friend. You will have to store most of your clothes and not outright necessary items in here. You can easily purchase tubes that can slide nicely under your bed or fit on the bottom or top shelf of your closet.
Makeup Magnet Board: Most girls have mountains of makeup and the tiny dorm rooms definitely do not have enough space for one girl, let alone two. By easily gluing magnets to your makeup and hanging a magnetic board on the wall you can keep track and store your makeup.
About the Photographer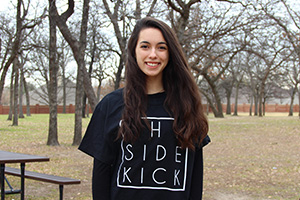 Rachel Buigas-Lopez, Editor-in-Chief
Rachel is a senior and has been on The Sidekick staff for three years; moving from graphic designer to Design Editor and now Editor-in-Chief. Academically,...