Malik releases first solo album, proves he has "mind" of his own
Exactly one year after he shocked the world by leaving one of the biggest boyband of our generation, One Direction, Zayn Malik has released his first solo album and it is well worth the wait. With 18 songs, "Mind of Mine" is a soulful album that is an obvious change from the pop music that Malik used to sing in One Direction.
Some of the songs are a bit repetitive, but below are some of the ones that stand out and get me excited for Malik's future songs.
PILLOWTALK– This is the first song released from the album and definitely gets people to realize that Malik is not going to crash without One Direction. This along with the music video being released on the same day is the perfect song to get you excited for what was to come.
iT's YoU– This song is slower but still just as good as the rest. He just put the music video for this song on YouTube and it only adds to the elements of the song.
BeFoUr– This song as a unique beat and it might take you a couple tries to really get into it. The music video was just recently released for this song and I think it is part of why I started to like this song more.
wRoNg– The beginning of this song is great, but gets even better when singer Kehlani comes in. She is the only other artist featured on the album and this song proves they were a good fit. It was such a good fit that this has become Coppell High School senior Gabriela Santana Prieto favorite song off the album.
"Since [the song] features Kehlani that means he is making friends in the music industry and growing as an R&B artist," Santana said. "That makes me so happy."
fOoL fOr YoU– This is another slow one, but still very powerful. It starts soft but builds into a raging chorus that makes you get into your feelings.
BoRdErs– This song is one of my favorites and I think it will be one of the next singles off the album. The chorus is very catchy and it is the perfect song to listen to on night walk or drive.
TiO– Another song with a unique style but in the best way. Malik is obviously trying to break away from his pop star image that was One Direction and this song adds to it. This song is for a more mature audience, along with the rest of the album.
"It is upbeat, but it is also really chill," CHS senior Kassie Morlet said. "I love how mellow it is and of course Zayn's falsetto (a method of voice production used by male singers, especially tenors, to sing notes higher than their normal range)."
BRIGHT– Again, another slow one but this one is very heavy on focusing on his vocals and it instantly hits you in the heart. This song makes you realize that he is more than just a pretty face and that he is going to have a talented career.
LIKE I WOULD– This has become one of my favorite songs off the album. The beat is catchy and it just makes you want to get up and dance around.
About the Writer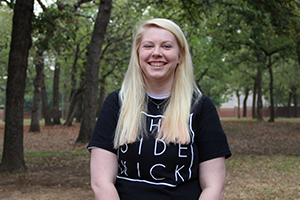 Gabby Sahm, Staff Writer
Gabby Sahm is a senior at Coppell High School and a third year staff writer for The Sidekick newspaper. She enjoys writing, reading, watching Brooklyn...