Ferguson sings her way to prestigious UNT College of Music
With a jazz band previously nominated for six Grammys, the University of North Texas College of Music is a very highly rated musical program. After being a part of Coppell High School's various choirs through the years, senior Jaden Ferguson will attend UNT College of Music in the fall with hopes to continue her passion for singing.
How long have you been singing?
Other than when I was younger and I would sing in the shower, I have been singing since fourth grade.
What did you have to do in order to apply for UNT School of Music?
I had to send in a prescreening of me singing one art song [meaning a classical song with piano accompaniment] and one aria song [meaning a song sung in another language], which I sang in Italian. Then I sight read, since I applied for music education I had an interview with the head directors a couple hours after my audition. I got to meet with them and explain to them why I wanted to do music and what inspired me.
What will you be majoring in there?
I want to pursue a bachelor's in music and music education.
What do you plan on doing after you graduate?
I am not really sure. Since I am majoring in music education I will have a teaching degree, so I might teach for awhile. I would try to open up my own studio for private lessons and do one-on-one lessons with my students. After I have done that, I would like to go into music production and recording.
Why do you enjoy singing so much?
Everyone has a passion. I was in sports for awhile and it benefited me for some time, but I had other things to commit too. Singing was one of them and I realized it was something I wanted to do after I got out of my other hobbies – it was my main one that I wanted to stick with.
What have you gained from singing?
You learn a lot actually. You learn to read and understand music, and it helps you a lot with other aspects of singing. I definitely got rid of my stage fright. I used to not be able to do anything in front of a crowd, but now I am very open with it. I have gained a lot more confidence. I used to be very unconfident about how I sounded and what I was doing but that has changed now. My work ethic has improved since I really have to work and practice.
What is some advice you have for anyone applying for UNT College of Music?
Focus on your audition date. Just because you audition for a later date does not mean you have more time to practice. Use all the time you have to practice the hardest you can and try not to let the nerves get to you. After you are done, I promise you will feel stupid for being so nervous.
About the Writer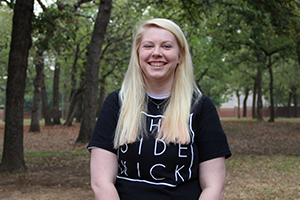 Gabby Sahm, Staff Writer
Gabby Sahm is a senior at Coppell High School and a third year staff writer for The Sidekick newspaper. She enjoys writing, reading, watching Brooklyn...