Hearty, wholesome and delicious; Blueberry Coconut Pecan Breakfast Cookies that stay with you all morning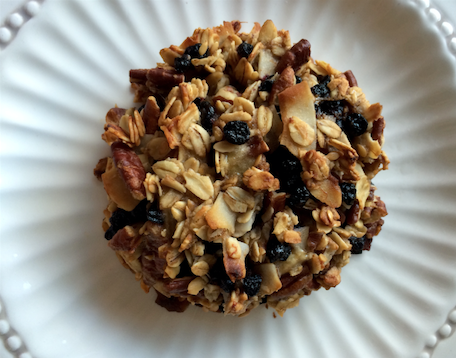 Hang on for a minute...we're trying to find some more stories you might like.
To say I am utterly a foodie is an understatement. I love food, all types of food. Whether it is a vegan version of spaghetti, or a mac-and-cheese burger with truffle-parmesan fries, I will try anything that even slightly makes my stomach grumble.
I also love to cook, but there is an initial step I must take before I take on the kitchen – I must find a recipe. And no mediocre recipe, I always look for the best.
Recently, I have been on a health kick. The last week I made my family an Apple Walnut Lentil Loaf (the recipe, found on one of my favorite vegan blogs, Oh She Glows), which is a vegan version of meatloaf.
Most of the recipes I utilize are from Pinterest, and this week I struck gold – lots of gold. I came across Kumquat, an entirely gluten-free recipe blog ran by registered dietitian Gretchen Brown. As I looked through her website, I instantly became hungry – it was a full feast for my eyes.
Choosing a recipe was extremely hard for me, considering I wanted to make everything I saw, but this particular recipe suited my fancy: Blueberry Coconut Pecan Breakfast Cookies. Made with only 10 ingredients, these cookies are hearty, wholesome and delicious – not to mention incredibly easy. Here is the recipe and instructions as found on the website:
Ingredients:
1½ cups gluten-free rolled oats

1 cup unsweetened coconut flakes

1 tablespoon golden flax meal

½ teaspoon salt

¾ cups coarsely chopped pecans

½ cup dried blueberries

3 very ripe bananas, mashed

¼ cup coconut oil, warm enough to be liquid

1 tablespoon agave nectar

1 teaspoon vanilla extract

Cooking spray
Instructions:
Preheat oven to 350 degrees. Combine oats, coconut, flax meal, salt, pecans and blueberries. Stir in bananas, oil, agave nectar and vanilla until well combined.

Press two tablespoons of mixture into a 2½-inch round cookie cutter onto a baking sheet coated with cooking spray. Continue with remaining mixture.

Bake for 25 minutes or until fragrant and golden. Cool on pan.
The only ingredient I could not find was golden flax meal so I ended up just using whole golden flax seeds, which seemed to have no negative effect on the recipe. These cookies are moist and chewy – the ideal consistency for oatmeal cookies – and without all the processed ingredients.
The mashed banana lightly glues all the ingredients together, complimenting the flavors of the dried blueberries, pecans and coconut flakes. Eat warm, or room temperature – either way it is delicious. I drizzled agave nectar on mine and approached it with a fork (10/10 would recommend).
The adage "less is more" definitely holds truth in this recipe. So, if you're looking to incorporate more healthful foods in your diet, this is the perfect recipe to start your day with.