Siren's YouTube channel lures makeup and fashion enthusiasts on the web
Since April 2014, the Sirens have come a long way. On top of homework and extracurricular activities, Coppell High School freshmen Shania Khan, Lindsey Reimer and Peyton Wallace manage to film, edit and upload videos almost weekly. Their makeup and fashion inspired YouTube channel has reached nearly 10,000 subscribers, after years of hard work and a contract with Stylehaul.
How long have you known each other?
Reimer- Since sixth grade. We knew each other in fifth grade, but we weren't that good of friends until sixth grade.
Khan- All of my friends and [Lindsey's] friends went to a different middle school, so we were stuck together and ended up becoming friends. And then we found Peyton in sixth grade.
How long have you been making videos together?
Khan- A little more than a year.
Reimer- [We started at] the end of seventh grade going into eighth grade.
What made you first want to start a YouTube channel?
Khan- We were just kind of bored one summer and we just decided to do it because we all loved the same people and the same things so we were like, "Why not just sit in front of a camera and film ourselves talking about something?"
Wallace- We all bonded over all the beauty gurus and were like, "Oh my gosh, this is so cool. And, you know, why not?"
How did you choose the name for your YouTube channel?
Wallace- We were in algebra in seventh grade, and we were bored so we looked up things that meant beauty. Sirens were mythical creatures with beautiful voices and we thought we'd go with that.
Khan- And since there are multiple of us, we thought it would be a good name for all three of us.
On average, how long does it take you to film and edit each video?
Khan- It depends on each video. It can take a while, since we have to make sure all of us are free to film. It [can be] kind of hard to manage time between all three of us, but eventually we'll get together over the weekend and have a set time to film one video; then one of us will decide who wants to edit it. [Often] we'll film multiple videos, and then each one will edit a separate video, so we have more videos to post.
Wallace- If we do a sit-down video, where it is talking – like our last video, where we were just sitting down and talking – it does not require crazy editing, so that would take probably two hours. If we're doing an outfits video we might need full clips, or we might go somewhere, and that might take six hours to edit. To film is a little more than that. We film a lot and we make sure each clip is perfect, which takes up more time.
Reimer- We all take turns, so it doesn't take as long. We split up the time per day.
What's your favorite part of making these videos?
Khan- Just getting to spend time with each other because we don't get to see each other at school as much as we used to. So when we do meet over the weekend, we just talk about whatever we want to talk about and just film a video. It is fun to talk about and express yourself, and [to] take a break from school and everything.
Do you think it is harder to film videos now that you are older and are in high school?
Reimer- It is harder to meet since there are three of us. Most YouTubers are just one person so they can film whenever they have free time, but we all have to plan when we're going to meet. We have to do it on the weekends, since we don't really have time after school.
Khan- We still end up making time for it, though.
How do people react when they find out you have a YouTube channel?
Khan- Oh my gosh. It is more awkward for us than it is for them. Someone I've never talked to before will come up to me and be like, "Oh, I've seen you on the Internet." I'm just like, "I don't know who you are, but thank you so much!" I get to make all these new friends because of them seeing me on YouTube. It's weird but cool at the same time.
What's your most popular YouTube video?
Reimer- It's a back-to-school or a routine video. There are two that have the same amount of views.
Wallace- It's really embarrassing, they are from forever ago. One of them was a winter night routine, and the other one was like locker decorations that we did in eighth grade, back when people decorated their lockers full-out.
Khan- Yeah, we were going from seventh grade to eighth grade and we were like, "Oh my gosh, we have to decorate our lockers." So we bought ribbon and all this stuff, and a lot of people liked the video.
What video was your favorite to make?
Reimer- Probably outfit videos. Just because we go and find really cool places to film, and it's fun to edit.
Khan- I'd rather film an outfit video than a makeup video because I'm just better with outfits than I am with makeup. We film each other, so we can [tell each other], "Oh my gosh, you look great!" and compliment each other.
Wallace- It's also cool to find music. You have to make it go with the beats, and it's almost in a way like a music video because it has to fit with the beat. When you're just sitting down and talking, you only use jump clips, but these ones have transitions and cute artsy clips and all this other stuff.
Reimer- Yeah, we make it into a music video. We'll say, "Let's walk across the street," and we'll record it with this upbeat music and it will look cool eventually.
Do you guys plan on making YouTube videos until senior year?
Wallace- Well, we kind of have to, because we're in a contract with Stylehaul, so we have to make videos for the next, it says, four years.
Khan- We didn't think it would actually last this long, because we started in the summer as a cool summer thing, but then school started and we kept doing it and we still loved doing it, and then another summer came along. Eventually we got contacted by this company.
Reimer- [Stylehaul is a] YouTube partnership program; they send us pay checks depending on the amount of views we get for each video. It's amazing because we get money for something we love doing.
About the Writer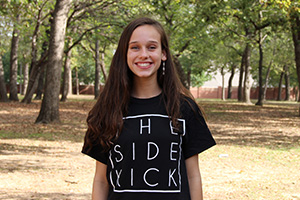 Avery Davis, Staff Writer
Avery Davis is a sophomore and first year staff member on The Sidekick newspaper. In addition to journalism, she a participant of the Lariette Drill Team...