"Roll" into the holidays with Pumpkin Rolls
Every holiday season my aunt makes delicious Pumpkin Rolls and the recipe has become a favorite family tradition. Although Pumpkin Rolls are a traditional dessert, my aunt has her own twist on them that will leave you wanting more after the roll is devoured.
These easy-to-make, mouthwatering Pumpkin Rolls will finish off the fall season and get you ready for winter. With holidays such as Christmas, Hanukkah, Kwanzaa and New Years approaching, this is the perfect dessert to eat while celebrating.
Pumpkin Rolls
Ingredients for pumpkin cake portion:
3 eggs
2/3 cup pumpkin
1 teaspoon salt
3/4 cup all purpose flour
1 teaspoon baking soda
1/2 teaspoon cinnamon
1 cup sugar
A dash of nutmeg
Ingredients for filling:
8 oz cream cheese
2 tablespoons margarine/butter
1 cup powdered sugar
1 tablespoon vanilla
Directions:
Preheat oven to 375° F.
Grease cookie sheet (13×9) and line with wax paper.
Combine and mix pumpkin cake portion ingredients above into large bowl.
Pour and spread dough on cookie sheet.
Put in oven and bake for 15 minutes.
Sprinkle kitchen towel with powdered sugar.
When cake is done, invert cooked dough on towel.
Remove wax paper from cake (Caution: very hot).
Roll up cake in towel and cool in refrigerator for one hour or in freezer for 15 minutes.
After removing from refrigerator or freezer, unroll cake.
Beat/mix ingredients for filling and spread onto unrolled cake.
Re-roll cake.
Wrap in wax paper and/or aluminum foil and refrigerate for an hour.
Enjoy!
Hang on for a minute...we're trying to find some more stories you might like.
About the Writer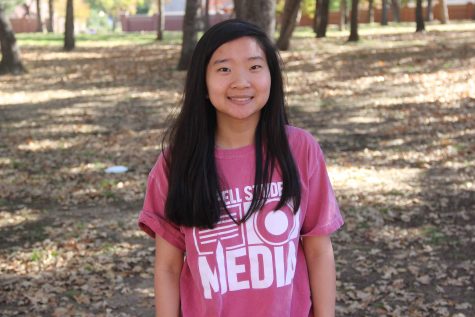 Gracie Blackwell, Business Manager, Social Media Manager
Gracie is a senior and third year staffer for The Sidekick newspaper. In her free time, she enjoys hanging out with friends, watching movies and traveling. With...