Mayor Hunt sees bright future ahead for Coppell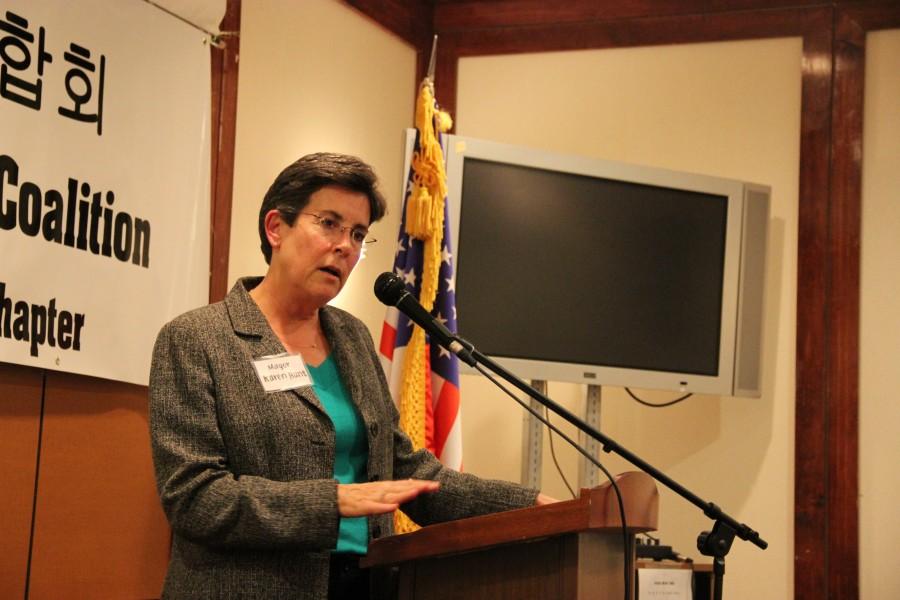 Jessica Jun
Staff Writer
@jesse_jun16
Karen Hunt has served on the Coppell City Council since 2008 and was elected Mayor of Coppell in 2012. The Sidekick's Jessica Jun had the opportunity to capture her unique insights about the future and outlook of Coppell, especially with new construction and improvements.
Q: How high is the population of Coppell? What is the city's budget?
A: We are right at about 40,000 people. There are a lot of different employees within Coppell so our city budget is at about $100 million and that's not just for general [infrastructure] funds.
Q: What improvements have been made in Coppell?
A: Our location makes us who we are. Sometimes it's the small businesses that really make a difference in our town. Lots of brand new businesses have opened in Coppell. [The restaurant] Salata opened, a new salon opened, and we had two or three others. It's still growing and we are still getting new people coming in every single week so we are excited.
Q: My family always visits Andy Brown Park, but I rarely see police patrol nowadays and oftentimes, we hear about random murders in parks or in parking lots in the news. How can security be increased so our safety can be assured?
A: We have actually had these conversations. We've installed some cameras and extra lights, but we haven't done a whole lot in that particular park because we are about to totally redo that park. We will redo all of that parking lot and all those types of things so we haven't done a lot yet. But a lot of people have complained about that so we have engaged our citizens who have gone through our police academy and we are now starting a citizens patrol. And that allows more eyes on the street. They aren't necessarily in vehicles like the police, but they have radiums and are equipped to call the police.
Q: Is there any plan to attract some other financial institutions to Coppell?
A: We don't need any more financial institutions. I can tell you that Bank of America has a presence, Chase has a presence, and not only just the retail locations but they have back offices too. Depository Trust & Clearing Corporation is a huge company that deals with the back office and that kind of stuff but it's an office in Coppell. Retail-wise, we have four Chase banks along with Frost and Bank of America, we have everything. Capital One is not in the city but we have one i
n every side of the city. We are the hole in the donut. Sometimes we can't get large franchises like Chick-Fil-A because there are Chick-Fil-A's all around us. We are that hole in the donut.
Q: There have been a lot of new projects being built, such as in Flower Mound and The Colony, so what kind of future lies ahead for Coppell in the aspect of new improvements or new construction?
A: We do have several plots of land and there are a couple of people building "high rise" for Coppell, meaning five to seven stories, right along 635. We have one hotel under construction, two other hotels that have been approved, and several others so we'll go from no hotels to five hotels in five years. It will be pretty amazing. We've also got new warehouses going up and another hotel, so we've got lots of stuff even though we don't have a whole lot of land left. Then we'll be looking at redevelopment where old stuff will be torn down and new stuff will go up.
Q: Coppell was recently ranked No. 8 for best city to live in in the United States. What are your thoughts regarding this recognition?
A: We are ecstatic that other people recognize what a wonderful place Coppell is. We've worked long and hard to create the area that we have. We have everything with events like the Fourth of July fireworks where we had over 18,000 people show up. We have the Old Town area where we have ice cream socials and movie night and the bands come and play for a Friday night. We have a very good safety rating for fire and police. It's just a great place to live. People watch out for each other. That's just the kind of community that Coppell is. We've had our share of tragedies, probably more than most, but the community pulls together. It doesn't matter what side of the city you're on. People come together and support each other personally. It was even No. 3 for kids to live in.