Q&A: 3 Freshman shine on varsity volleyball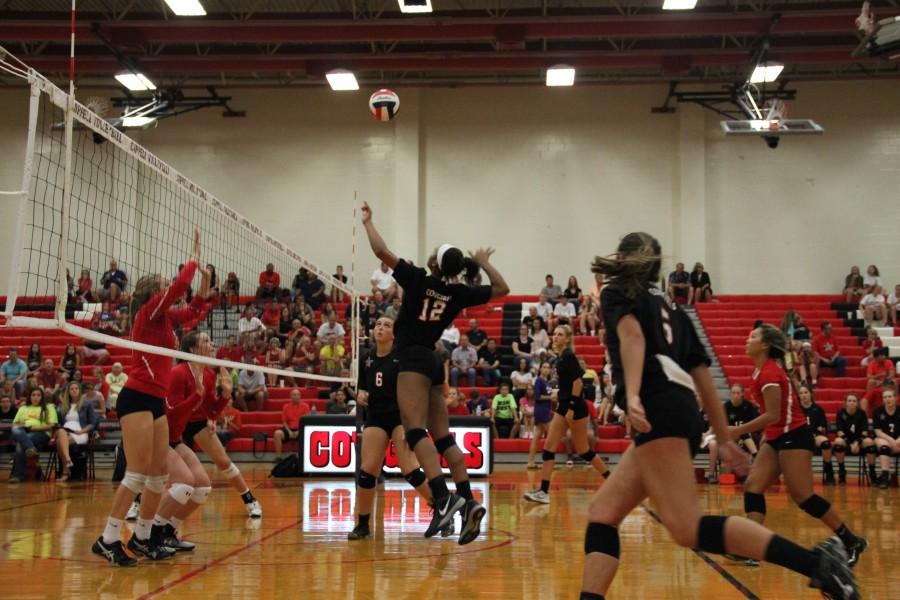 The Coppell volleyball team has not had a freshman on its varsity since recently graduated star setter Kylie Pickrell. Currently a freshman setter for the Arizona State University Sun Devils, Pickrell made the Cowgirl varsity team as a ninth grader in 2011.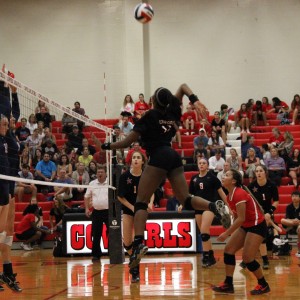 Four years later, there is a record-breaking three freshmen on the varsity team. They include setter Mallory Rogers, starting middle blocker Mykayla Myers, and outside hitter Amarachi Osuji. Having so many fresh faces on the varsity team is a sure sign that the Cowgirl Volleyball program is focused on building a foundation that will keep growing and improving in the future.
Cowgirls coach Julie Green's roster decision is certainly reflecting positively on herself and the program, with the recent celebration of her 400th win and the team on a six-match winning streak.
Being a freshman on a team that is such a big name in the high school volleyball world comes with a lot of pressure, but these girls are tough.
How many years have you played volleyball?
Rogers: I've played volleyball for seven years and I've played club for four years. I've played at Instinct, Victory and Texas Advantage Volleyball (TAV).
Myers: I've been playing volleyball since sixth grade. I've played club for four years now. I've played at Instinct, Madfrog and now I'm at TAV. I went to nationals with my club team over the summer and we won nationals. It was unbelievable, it was just the best feeling in the world to win nationals at such a young age.
Osuji: I've been playing volleyball for three years now. This year will be my third year playing club. I played for Coppell Juniors my first club year and I played for TAV last year and this year.
What did you imagine high school volleyball to be like?
Rogers: I knew it was going to be a lot of running, but I also knew it was going to be fun.
Myers: I imagined it being tough and challenging, a lot different from middle school because we would be playing much harder teams.
Osuji: I thought it was going to be exciting and really hard and it's turned out to be both of those things.
What were your expectations going into elite camp and tryouts?
Rogers: I was hoping to make freshman A or JV, hopefully. I've played for a long time, and I've always strived to be on JV, but I wasn't really expecting to get on varsity.
Myers: My expectations were for me to make it up to the varsity courts and play with the varsity players. I was hopeful that I would make varsity but I was expecting to make JV.
Osuji: I honestly didn't expect to make varsity. I was kind of surprised at tryouts when she told me that I did. It was really exciting. My goal was to make at least JV, I just told myself I'd try to do the best that I could.
What was your reaction when the coaches told you that you made varsity?
Rogers: They took us in a back room and she had this whole speech and then she said, "I put you on my varsity team". It was kind of embarrassing because I started crying.
Myers: I was really excited and happy because I reached the goal I made for myself over the summer, which was to make varsity. I worked really hard over the summer, I went to Nationals with my club team and I also went to Iowa for high performance training.
Osuji: I was really shocked. I didn't really think that it was going to happen, and so I was really excited.
How is the season going so far?
Rogers: I think it's a lot of fun; I really like the coaches because they help and push you to get better.
Myers: We're doing really well. We just started district on Sept. 11 and we beat Haltom in three [games].
Osuji: The seasons going really well, we're actually on a winning streak right now. We're doing really well and we're working really well together.
How have the older girls reacted to having you on the team? How have they made you feel welcome?
Rogers: All the girls are really nice and supportive. They always offer rides to and from practices. And they always try to help you get better so they're always giving you points and tips in practices.
Myers: They always ask me to hang out with them. In practice, they always make me feel good about myself and they help me out and encourage me to work harder. For the first couple weeks of school, they would help me out when they would see me in the hallways.
Osuji: They've been really supportive and they like to help us out and teach us different things that we can do to improve. They've been really helpful and really nice. Just really welcoming. They've been helping us with how to make time for our homework and make sure we finish all of it.
What are some team or personal goals you have for this season?
Rogers: I know a team goal is to beat Southlake [Carroll]. We played them once, but we lost to them so we really want to beat them in district and then go on to win district and then win state.
Myers: A team goal is to win district and make it to state. A personal goal I have is just to become a better player.
Osuji: Our team goal right now is to win district so we need to beat Southlake [Carroll] and all the teams standing in our way. A personal goal is just to improve and become more consistent.
Leave a Comment
About the Contributor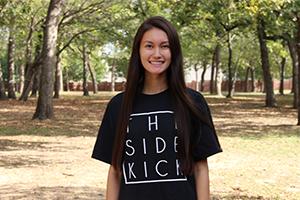 Maggie Theel, Staff Writer
Maggie Theel is 16 years old and she is a junior at Coppell High School. In addition to being a staff writer for The Sidekick, she is a diploma candidate...