Singing out loud with Sheeran
FRISCO – Pint-sized kids, adults and teenagers filled Toyota Stadium on Saturday night, as they eagerly awaited the commence of Ed Sheeran's "X" tour. Frisco was Sheeran's second stop on his U.S. tour, his first in Houston just two nights earlier.
By the time Sheeran came on stage, the weather was perfect for an outdoor concert: a warm breeze, clear skies, and just the right amount of energy and anticipation in the air.
The screens onstage transformed into virtual photo albums filled with dated Polaroid snapshots of Sheeran as a child to him present day. The last polaroid was strategically planned to begin Sheeran's performance. Dated as "2015", Sheeran walked on stage, his guitar at hand.
As he began singing "Lego House", Sheeran surprised the audience by donning a cowboy hat to honor the great state of Texas. The whole crowd immediately went wild with approval.
Sheeran asked the crowd, "Dallas, how you doin'?", in his familiar British accent with joy spread across his face.
"This is officially the biggest concert I've ever played in the United States," Sheeran said. "Everything is bigger in Texas."
Whereupon saying that, the crowd went wild.
Sheeran went on to explain a unique aspect of how he makes his "one-man band" performance so successful.
"This thing on my foot is called a loop pedal," Sheeran said. "Everything you hear tonight is completely live, everything is recorded on the spot, looped on the spot."
The loop pedal enables Sheeran to create his own sounds and strums, making his solo act sound as if he had a drummer, other guitarists and vocalists.  
Some crowd favorites he sang from "X", included "Photograph" and "Thinking Out Loud." Sheeran also put a spin on his song "Take It Back", by adding in lyrics from "Superstition" by Stevie Wonder and "Ain't No Sunshine" by Bill Withers.
"The love that America shows me in general is pretty mind blowing," Sheeran said. "To be able to come and play at a stadium in Dallas, which is a long way away from where I come from, is pretty amazing, so thank you."
Sheeran tirelessly went on to sing "Tenerife Sea", then "Don't", in which he mixed lyrics from "Loyal" by Chris Brown and "No Diggity" by Blackstreet.
A memorable moment during the concert was when Sheeran sang the lyrics from "Feeling Good" by Nina Simone over the music from his song "I See Fire."
Sheeran gave a beautiful tribute to music legend Stevie Wonder by singing "I Was Made To Love Her." He also sang "Dark Times", a song he collaborated with The Weeknd, on The Weeknd's new album, "Beauty Behind the Madness."
As the concert was nearing its end, Sheeran spoke to the crowd in gratitude.
"Thank you so much for welcoming me back into your state," he said. "Thank you for sweating, singing and clapping. I know that Texas is a very, very big state and a lot of people here have driven a long way to be here, so thank you for making that drive."
Quickly changing the mood from sincerity to light heartedness, Sheeran joked with the crowd about how since they had not lost their voices, they would have to sing really loud for the next song.
Screams ensued as Sheeran sang the lyrics, "White lips, pale face," from his first single, "The A Team."
During "The A Team", Sheeran stopped singing to speak to the crowd.
"Now Dallas, I know for a fact everyone in this stadium has a phone and on those phones, are lights," Sheeran said. "I want to see all your lights in the air right now."
The stadium lit up with shades of blues, whites, yellows and purples. The fans were like stars in the night sky, both visually and vocally becoming one, all the while singing Sheeran's captivating lyrics.
As soon as the "The A Team" ended, Sheeran vanished off the stage, the crowd repeatedly screaming, "Encore." Not long after, Sheeran returned, his guitar at hand, strumming the tune of "You Need Me, I Don't Need You."
"There's one thing though," Sheeran said. "We still have not lost our voices and this is unacceptable on the last song. We're gonna have to scream and scream and scream until we cannot scream anymore."
Sheeran began playing "Sing." The crowd sang the lyrics, "If you love me come on get involved," in unison with Sheeran, creating a feel of intimacy and unity amongst the thousands of attendees.
As the song finished, Sheeran told the audience to "Never stop singing," leaving everyone in awe as he vanished for the last time.
Jamie Lawson and Christina Perri were the two opening acts that warmed up and delighted the crowd. Lawson is British up-and-coming singer who signed to Sheeran's new record label 'Gingerbread'.
Perri is an American singer-songwriter who is known for her song "A Thousand Years", which she wrote for the "The Twilight Saga: Breaking Dawn" movie soundtrack. Sheeran later invited Perri to come back on stage during his set to sing "Be My Forever", a song in which Sheeran and Perri collaborated on for her album, "Head or Heart."

Hang on for a minute...we're trying to find some more stories you might like.
About the Writer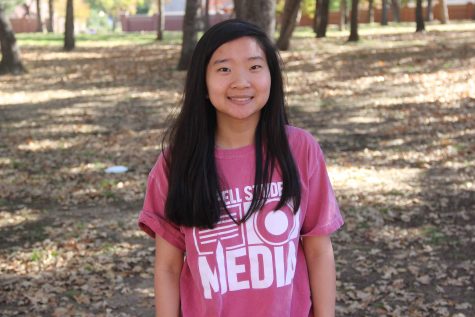 Gracie Blackwell, Business Manager, Social Media Manager
Gracie is a senior and third year staffer for The Sidekick newspaper. In her free time, she enjoys hanging out with friends, watching movies and traveling. With...