By Alexandra Dalton
Staff Writer
@alexdalton04
Starting out with a literature/education blog to voice opinions over how English classes should be approached, Coppell High School International Baccalaureate English I and Gifted and Talented English II  teacher Michael Vergien found a way to express his ideology that would eventually lead him to be published in a international magazine; IB World.
"My blog has my opinions, a little bit of research but it's really just a place where I put my thoughts down on paper," Vergien said. "It's one thing to think about an idea. It's another to put it down on paper. It's through the act of actually writing that I solidify some of the ideas I have about teaching or literature."
Because of  Vergien's course load, he is forced to approach the academically challenging classes with a different perspective.
"The level of analysis that IB requires mandates that teachers really know what they're talking about," Vergien said. "They don't go into teaching a piece of literature about a piece that they had just read the week before. We have to know, because of what the students are expected to do with that, how to guide them. IB is not lecture based; it is about students diving into the literature themselves and finding their own analysis."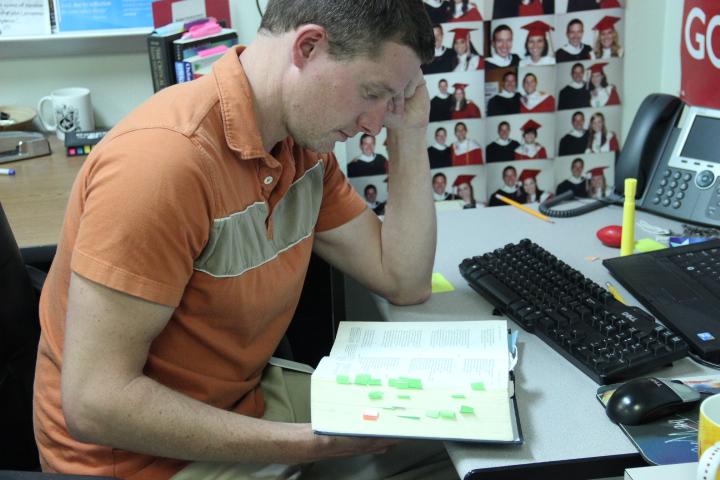 By posting about his blog posts on social media sites such as Twitter, Vergien was picked up by Edutopia, a group that puts forth numerous educational topics. This gave him the confidence to submit his work to a critically-acclaimed magazine like IB World.
"It is always nice to be validated but even if it hadn't been published, I would still have my ideas. I value people who stick up for what they believe in, whether it is popular and people like it or if it is not popular and people don't like it," Vergien said. "That is what I try to teach my students and that's what I live by. I told myself, 'If it gets published, cool, if it not, that's cool too.' I didn't write something to get published; I wrote something to share ideas."
Because of the rigorous demands of the courses he teaches, Vergien thinks the workload should be on the shoulders of the student and the teacher, not just by the student alone. This philosophy is what eventually lead him to express his opinion.
"If I have students write, I should be writing. I expect students to do what I should be wanting or enjoy doing and I need to know what they know," Vergien said. "It is important that teachers know enough, and are well rounded in the material [they teach] to support those students when they find their way through it."
He implements this idea in his classroom daily as he thoroughly prepares the literature and works with his students so that they do not feel as though he is sitting on his desk with his feet up.
"I am not a 20 year veteran but I am not a spring chicken, either," Vergien said. "I use my experience with the students, successes and failures, to get students to do what they need to do."
Students have experienced this in his course as they are given one of the most diverse atmospheres in all of their classes.
"His passion for our education is inspiring," senior Emily Friis-Hansen said. "The way that he runs the class makes students want to be there and want to learn about whatever he teaches."
His motivation is simple; the principle that teachers do not have to be experts in their craft and they can rely on students to own motivation to seek out information is becoming more popular and is a detriment to the common high school student.
"That's why I wrote my piece, to show the other side and say 'we need to be experts about what we do, we need to love what we do to the point that we can't help but influence those around us to love it too,'" Vergien said.