Inventeam travels to SXSWedu, gets feedback for Gateways
By Gabby Sahm
Staff Writer
@gabbysahm
When someone says they are going to South by Southwest (SXSW), you instantly think about the music portion. Little do people know that SXSW is actually a set of music festivals, conferences and films all rolled up into one.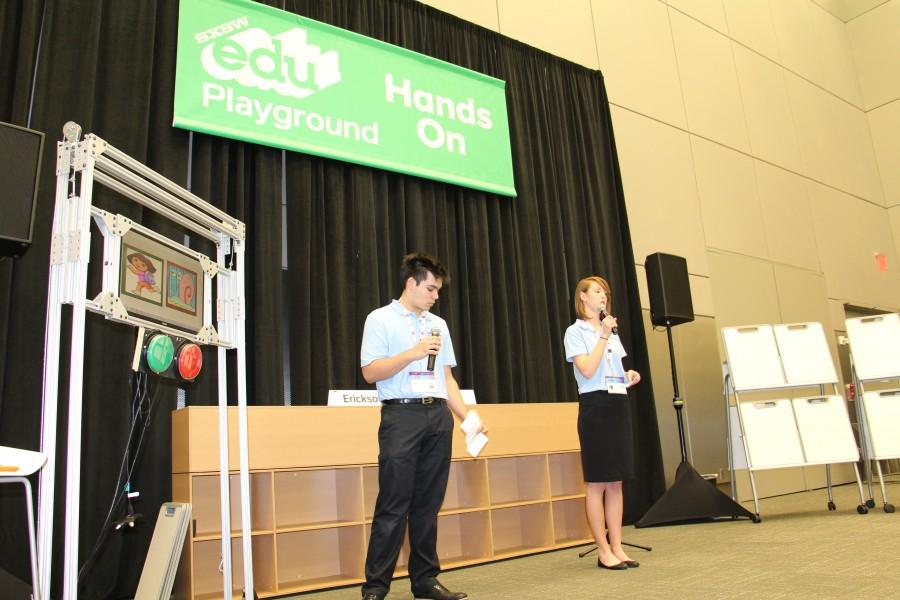 The event also has a section called SXSWedu, which is a conference and festival that houses different innovations in learning. The Disruptive Innovation Lemelson-Mit Inventeam, one of the many teams in the Science, Technology, Engineering and Mathematics (STEM) program at Coppell High School, traveled to SXSWedu in Austin on March 11 to display their innovation, Gateways.
Gateways is an invention incorporating new technologies to develop an interactive training device capable of being personalized for each student suffering from a disability. The team has worked on the project since the summer of 2014, and will continue it through the next school year.
It is designed for special education teacher Eileen Higgins to help her let the students work freely. The students press certain buttons according to what is being shown on the monitor. The data is then recorded via the kinect attached on top which collects data on their actions.
The team traveled to SXSW during spring break in order to get new feedback regarding its latest version of Gateways, which was module V3. Junior team leader Zane Erickson spoke alongside senior  executive lead Erin Payne to the community about their project and the plans they have made so far.
"To have the opportunity to speak with other administrators from around the area gave us the ability to view our invention in a brand new perspective," Payne said. "Lately we have been constrained to the needs of our school's special education department, so to speak with other educators from a completely different district has really helped us."
Junior technical lead Nino Teruya travelled along to aid in transportation and assembly/disassembly of Gateways. He enjoyed seeing his fellow teammates present along with hearing the feedback from the community.
"While we did not get as much feedback as we would have liked, the people that give us feedback gave us very good tips," Teruya said. "It allowed us to further increase our knowledge of what we needed to do to make [Gateways] more user friendly."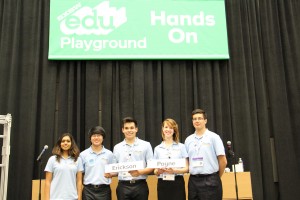 The team also got to speak with and see other innovations and presentations from other teams at SXSW, including inventions that are not common to see everyday.
"I really enjoyed speaking to the different people along with seeing the other exhibits that people had there," Erickson said. "Like one exhibit showed an Arduino, a tool making computers that can sense and control more of the physical world, being used as a satellite."
STEM coordinator Mike Yakubovsky hopes to continue the team's' work into following school years. He plans for future students to be able to build upon what the team has accomplished this year.
"Where we are going in the next years is making improvements to the existing model but then also expanding it to make [Higgins's] room more user friendly and more customized versus just having one module," Yakubovsky said.
At the end of the day, when it was time to pack up and leave, the team reflected on the day and all the feedback they had received. The team hopes to have the next module, V3, complete by April 10.
"I learned how unique our Gateways truly is," Payne said. "To receive so much positive feedback from so many different people has really made me hopefully for the future of our invention."