TWU representatives present financial aid workshop; give attendees steps to success
By Kara Hallam
Enterprise Editor
@KaraHallam
Today, the Coppell High School Counseling Department hosted the school's very first financial aid workshop from 10 a.m. to 12 p.m. in the lecture hall. Texas Woman's University representatives were invited to present at the workshop and help parents afterwards fill out Free Applications for Federal Student Aid (FASFA) forms.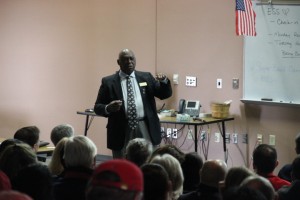 TWU's Director of Financial Aid Governor Jackson spoke for two hours, while answering questions along the way.
"When we talk about financial aid most of us have a broad idea of what that is," Jackson said. "Basically in a nutshell, it's just money to help the student and the parent pay for [the] cost of college or university education at whatever type of institution. All of those institutions, if they are fully accredited, are required to offer financial aid services to students."
Jackson began by explaining cost of attendance which includes direct costs, such as tuition and fees, and indirect costs like hygiene and transportation expenses. He presented the various prices involved with attending public universities, private universities and community colleges in Texas.
""It's very important to understand that piece because it has a lot to with student success," Jackson said. "Nothing inhibits a student more than having to worry about the financial aspect of attending college. Nothing stresses students out more than having to worry about that concept."
Another key element to financial aid is expected family contribution. By calculating the cost of attendance and subtracting the amount of money it is expected the family or student will contribute to paying to attend college, financial need from federal and institutional programs can be determined.
"The formula, it's fairly complicated," Jackson said. "You don't need to think [it] counts every penny you make, every investment. There is a netting out or a deduction for standard living expenses, before they even look at what you can contribute for the student."
Jackson then proceeded to explain the different types of aid such as scholarships, grants, loans and employment.
There are many scholarship search engines students can go to such as the Adventures in Education, The Princeton Review, College Board and Fastweb.
Grants are typically awarded by financial need. There are several different types of specific grants that students may qualify for. This includes a grant for those who want to pursue a career in teaching.
Loans on the other hand can be borrowed by parents and students and paid back later on with interest. Work-study programs employ students from 12 to 20 hours per week to help them pay for costs.
Need is determined by filling out a FASFA at www.fasfa.ed.gov or by sending it in the mail. Before filling it out, it is necessary to apply for a pin at www.pin.ed.gov.
"The pin allows you to sign the FASFA, revise it and go online to look at the status of it," Jackson said.
The FASFA became available in early January, but a student's parent must receive a W-2 form from their employer for the new year first. Employers vary in when they give this form to their employees.
Once parents have it students are ready to apply for financial aid. Jackson strongly stresses using the online method so mistakes can be corrected and updated.
After the workshop, the TWU Mobile GO Center was there to help students and parents get their pins and fill out the FASFA.
"To have someone walk me through this was a luxury," CHS senior parent Kalyani Patel said. "Instead of me having to figure it out myself. It was a very relevant and educational."
Other parents and students found themselves learning new things at the completely packed workshop.
"I learned about student loans" CHS senior Miranda Newman-Noah said. "I didn't know parents could get loans, I learned you could get them from federal, state [and]  private and from the schools and from the employer and I thought that was cool."
CHS counselors Shelby Wright and Yolanda Edwards played a big role in setting up the workshop. Wright offered some of her own advice for students.
"Start early, during  junior year or even before for that and do a profile on financial aid website to get an idea of what they might qualify for even if the have a college fund," Wright said.  "It's always good to still apply for federal financial aid because you never know if your circumstances will change and a lot of colleges will also use that information to determine how they can help you go to college."
She found in her personal experience as a school counselor that the process turns out to be a positive one for most.
"Most students find out that they can get financial aid to help them pay for college," Wright said. "There is a way for them to figure out and get a big picture of what it's going to cost."