Red Jacket applications spark anticipation amongst students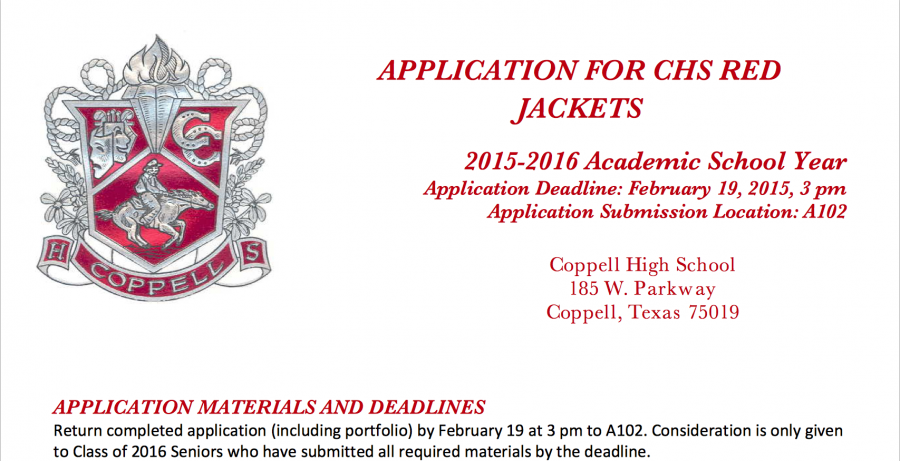 By Alexandra Dalton
Staff Writer
@alexdalton04
Planning for next year, juniors are taking the next step to getting closer to their final year of high school by applying to be a Coppell High School Red Jacket.
Red Jackets is a program that excels in taking young leaders of the school and creating them into a community representative keen on professionalism, diplomacy and leadership. Students who wish to apply will require three rounds of interviews to get into the program.
"By becoming a red jacket, you become an ambassador to the school," CHS senior Red Jacket member Chandana Tatineni said.
Applications have been made available to all juniors via the school website. The group requires students to have a grade point average of 4.7 and uphold the rules and regulations of the school. It is also required to have a letter of recommendation from a member of the CHS staff and a local community member.
The honor of the program is well known amongst those wishing to be a member.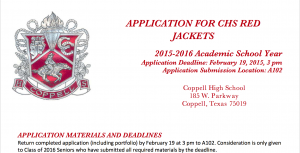 "The Red Jackets epitomize Coppell's dedication to education, volunteer service and all around good conduct,"CHS  junior Jasmine Sun said. "I would be so honored to partake in this group of young leaders that will pave the way for future generations."
The process is elite and requires much attendance and dedication from all members. Red Jackets represent CHS at events like Open House, the grade shadow days and new student tours.
Red Jackets also participate in necessary school events like schedule pick-up and daily announcements.