Jacob Logan LifeVision Home creates transitional haven for Zambian orphans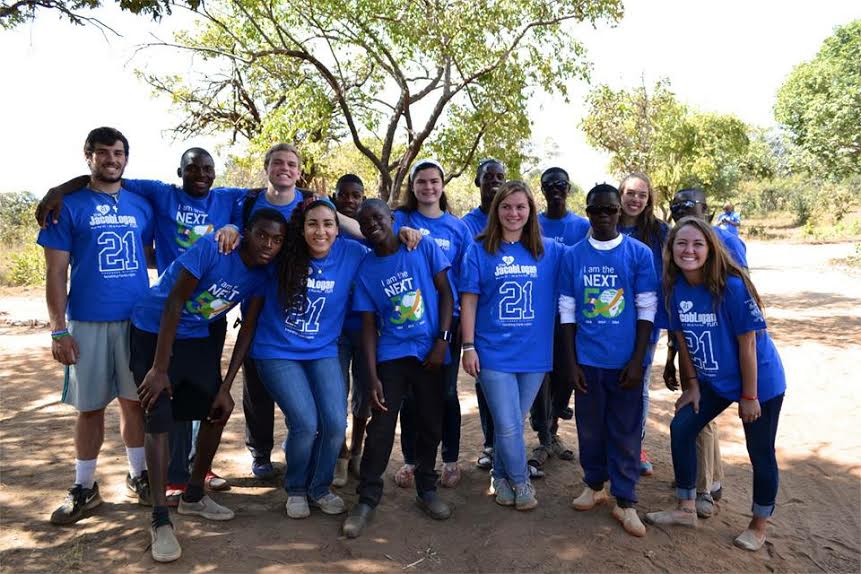 By Sloane Samberson
staff writer
@sloane_avery
With the tragic death of Coppell High School student Jacob Logan over two years ago, family and friends had been wanting to find a way to justly honor his life. When the idea of a local 5K and Fun Run was brought to mind, those who loved him thought this could be the start of something much bigger.
A CHS senior and football standout, Logan died after jumping into Possum Kingdom Lake in October 2012.
"One of my moms good friends, Dana Gage, lost her son six weeks before Jacob at Possum Kingdom Lake," said Jacob's sister Jordan Logan. "They had a run called The Honor Conner Run to honor Conner Gage's 15 years of life. This got us thinking, 'What if we did a run that benefited something outside of Coppell?' and thats how the Jacob Logan Run came about."
The Jacob Logan Run was only part one of family and friend's bigger plan to honor Jacob. Family and friends felt as if so much more could be done, that something could be done beyond the premisses of Texas. The 2015 Jacob Logan Run will occur on Dec. 20th at Andy Brown Park East from 9 a.m. until the 5K terminates.
"We started talking with Family Legacy and they were in need of a house built," Jordan said. "It was kind of like God leading the whole thing. We wanted to do something and they were in need of something, so the idea of the Jacob Logan LifeVision Home was formed."
Family Legacy is a non-profit organization located in Irving. It started in 2000 by Greer and Susan Kendall in order to help give love and care to Zambian orphans.
Because of donations, sponsorships and over 400 people running in the Jacob Logan 5K and Fun Run, this idea of a house in Africa could truly come to life. Twelve Coppell students and parents got the opportunity to head over to Zambia and help complete the Jacob Logan LifeVision Home.
"It was incredible seeing people donate starting in October of 2013, and there being a home built by July 2014," Logan family friend Quay Bratton said.
The Jacob Logan LifeVision Home provides transitional living for eight Zambian boys at a time. These boys are orphans who have either lost both parents, have been abused or have HIV/AIDS.
"Tree of Life is the orphanage in Zambia that is through Family Legacy," Jordan said. "There, they live in full time care with a mentor in each home. Jacob's LifeVision Home is one of the first homes for the 'older kids'. This means they already lived at Tree of Life but had to apply to move into one of the LifeVision Homes."
In the home in Lusaka, Zambia, they learn to start preparing for moving out of the orphanage because they' are almost done with high school. Some will go on to college and some will go on to learn a trade.
The home was already built by the time family and friends got there. The layout of the home is very simple. There are two bedrooms for the eight boys with two sets of bunk beds in each room, two closets that have no doors, just one rod and two shelves.
There is also one bathroom that is split with two sinks, two toilets and two showers. There are also eight desks in the den placed against the wall. A huge pantry and dining room, a front porch and a back porch.
After arriving in July, it was their job was to decorate the inside of the home in less than two days.
"The paint was still wet when we got there," Bratton said. "We were scraping windows and putting in light fixtures as well as hanging photos, sticking quote stickers on the walls (which did not stick well) and moving all their new clothes in, all while avoiding the wet paint."
To add Jacob Logan flare to the house, a majority of the decorations were orange and blue (Jacob's favorite colors). One bedroom was decorated with a football theme and the other bedroom with sports. Each room had a big poster of Jacob right when you walked in as well.
The eight boys were beyond grateful for all their hard work. They thanked everyone for changing their lives, thanked God for sending his people to complete his work and thanked Jacob for a house that could be in honor of him, in remembrance of him.
"The boys had so much gratitude towards us and especially the Logan's," friend and CHS senior Kennedy Polk said. "It was cool to be able to directly see how all the work that was put into the run and all the fundraising done back at home truly affected these boys."
There are big goals set for this year's Jacob Logan Run. Phase two of the Jacob Logan Home is undergo. Once enough money is raised for construction, an exact replica of the Jacob Logan LifeVision Home will be built, a breezeway in between the two homes.
"Whether or not we get another house built this summer, everything were doing is to honor Jacob, to honor God and to try to do something good in this world," Jacob's mom Mona Logan said. "It's a labor of love."