By Pranathi Chitta
staff writer
@prannydacheetah
On Oct.15, sophomores and juniors in the Coppell Independent School District will be taking the National Merit Scholarship Qualifying Test, better known as the PSAT. The results of this test will determine if junior students will be a National Merit Semi Finalist or Finalist.
The freshmen, sophomores and juniors will arrive at school at the regular time, 8:20 a.m., and the seniors will arrive at 11:40 a.m. While the sophomores and juniors take this test, the freshmen will be watching vignettes of Remember the Titans and participate in connected leadership activities in the commons.
"The PSAT is a great learning tool for students to get familiar with the SAT," CHS guidance counselor John Crook said. "The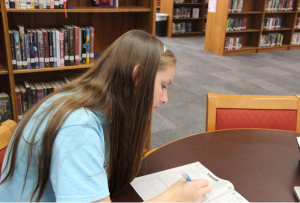 results that come back in December help students see what they have missed and how to improve."
Juniors who did not sign up to take the PSAT will take the Armed Services Vocational Aptitude Battery test. The ASVAB test is for students who have an interest in the military. This test helps students to decide what area in the military interests them.
To see the full schedule for this day, click here.