Variety of financial aid options to help seniors beat debt, enjoy college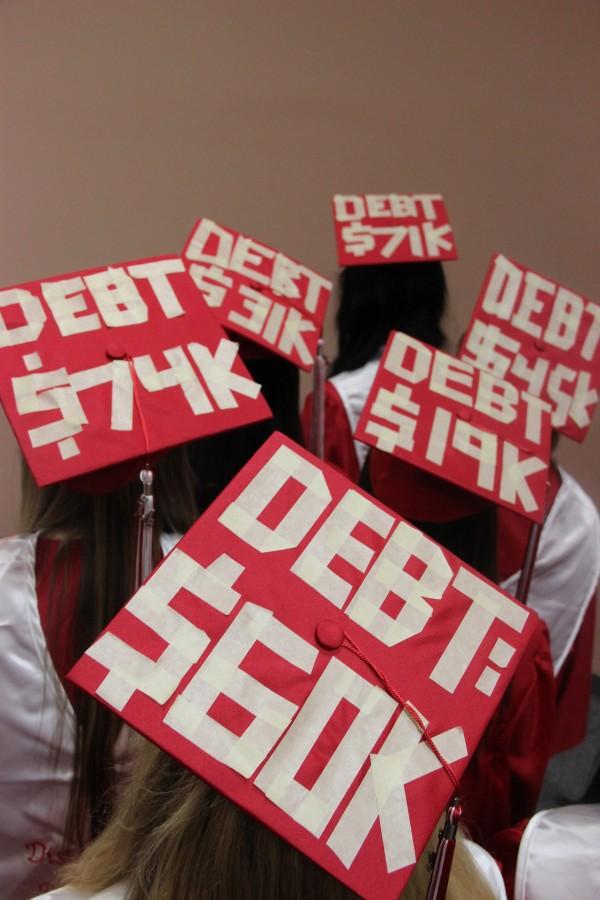 By Elizabeth Sims
Enterprise Editor
Despite all of the fun and festivities of senior year, one thing has been lingering in the minds of each graduating student and their parents: money.
With interest rates on undergraduate loans expected to rise from 3.86 to 4.66 percent within the next year, according to a recently released article from CNNMoney, and the average loan debt already resting around $20,000, the race to find money to pay for college has been all the more urgent to avoid a lifetime of paying back student loan debt.
"About 90 percent of the money students use to go to college either comes from the federal government through filling out [the Free Application for Federal Student Aid], Pell grants and work/study. The other part of that comes from the schools they attend," Coppell High School counselor John Crook said. "That is why it is important that students research the schools they attend, and that they are not only hitting the admissions tab to see what it takes to get in but looking at the scholarships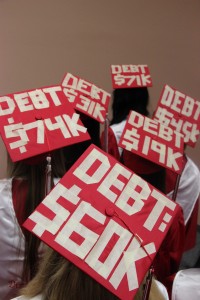 offered and knowing the deadlines for those."
While taking out at least some student loans is inevitable for most, students have found ways to cushion the impact beyond applying for countless scholarships, hoping for a little boost from FAFSA or attending community college to get the basic classes done before transferring to a university.
For senior Haley Powell, this cushion came in the form of the GI Bill. Her father, Colice Powell, received these education benefits for his 27 years of duty in the Army, and he was allowed to transfer it to his family members.
"I am a recipient of the Post-9/11 GI Bill, which made me eligible for up to 36 months of college or other educational benefits. The 36 months are divisible pretty much any way you want," Mr. Powell said. "We had a lot of money saved for college and Auburn [Haley's older sister] got some academic scholarships. We determined that we had this covered for Auburn so we were going to push on and use the entire benefit for Haley as long as she keeps her grades up."
Though the bill gave the Powells financial backing for Haley's education, they discovered not all colleges accept the assistance equally. This ended up playing a big role as Haley decided between the University of Oklahoma and Oklahoma Baptist University.
"I had grown up loving OU and always thought I was going to go there, and my sister going to OBU really brought it into the decision making process. OU didn't allow the GI Bill to cover all the expenses, whereas OBU did," Haley said. "The money was a large part of my decision but not ultimately what it was based on."
Haley made the decision to attend OBU to study anthropology, and found that with it being a private university in the National Association of Intercollegiate Athletics (NAIA) rather than the NCAA, she could stack other scholarships she received on top of her benefits from the GI Bill.
Senior John Herubin signed to play football and pursue an electrical engineering degree at Yale University in New Haven, Conn. on Feb. 5. With this commitment came a hefty price tag of over $60,000 per year. However, the football team had a mandatory work/study program to help Herubin pay for his education.
"It was mandatory, but I wanted to work during school. I've done it throughout most of high school, and it seems even more important during college to pay the bills," Herubin said. "I'm not entirely sure what I'll be doing, but the football coaches are going to set up everything for me with different jobs in the community part time."
Though this work/study will ultimately focus on tuition payments, Herubin knows there will be future benefits through this opportunity.
"The first year will be something like working at a summer camp for kids. Then, further along in schooling, I'll start doing internships," Herubin said. "The benefits are primarily financial. Then later on it will be more about finding a job to work at after I graduate."
Senior Sam Jett earned money for five years of college based on his National Merit standing alone.
"The National Merit cutoff score changes each year, along with the relative difficulty of the test. They try to keep it so that only one percent of test takers will receive the award. This year the cutoff was 218, and I had a score of 220," Jett said. "I think I'm looking at about $121,000 from OU, which consists of full tuition for five years and about $25,000 in other areas, like housing and study abroad. It isn't quite a full ride, but with the $6,000 I've gotten from other sources it's close. It should be about $4,000 total per year for everything."
Though he received nearly a full ride to OU, Jett still had other options to consider before making his final decision.
"I was accepted to [the University of Texas at Austin] honors engineering with a $2,500 one time scholarship, but I liked the atmosphere at OU better. UT just seemed too crowded," Jett said. "I visited both schools and simply liked OU a little more. I also have a brother who is enrolled there so I would be happy to have his guidance if I have any problems or questions."
Students have also found seeking aid beyond the borders of their home state can help. While the thought of out-of-state tuition initially seems like a deterrent, it can be worked around and students can earn scholarships to reduce the cost based on test scores.
"Each year about 40 percent of our students go out of state. They apply for scholarships and look for ways to absorb the cost. They also apply to schools where they can receive in state tuition based on SAT or ACT test scores," Crook said. "The schools can be affordable if the student has done a nice job of taking care of themselves academically."
The issue of choosing a public versus private university also comes up when looking at cost, but Crook has an answer for this as well.
"I think that is a discussion every student needs to have with their family early on to determine the parameters," Crook said. "My opinion, though, on where students go is that it's not where students go; it's what they make of the experience. If I've shown myself to be the kind of person who is going to take advantage of opportunities or find job shadowings or find internships in the summer, I'm going to be very successful coming out of college no matter where I go."
No matter if they are attending a public or private university, in state or out, students have found ways to cover the ever-increasing cost of college to enjoy the experience and pursue a higher education.