Kellen leaves CHS, Brown takes over as associate principal
By Shannon Wilkinson
Staff Writer
Associate principal Michelle Kellen is leaving Coppell High School at the end of the semester after three and a half years here.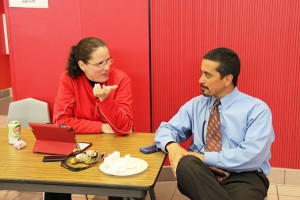 "I will be going up to the Albany, N.Y. area for my next job," Kellen said. "I am really excited about going up there because I love the north and I miss having all the different seasons."
Kellen previously worked at Colleyville heritage as a basketball head coach, teacher and later worked in administration. This work prepared her for working at CHS.
Kayla Brown, who is currently an assistant principal, will step up as interim associate principal. Principal Mike Jasso hopes she can continue the work that Kellen has laid out.
"Ms. Brown has experience from previous schools which gives me the confidence that she can take over for the semester and do the best that she can," Jasso said.
Kellen has made many different memories from her time here at CHS. Her co-workers believe her to be a very determined person who can not only make hasty decisions when needed, but can also work well under pressure.
"Anyone stepping into this role has big shoes to fill. Ms. Kellen will be leaving commendable structures in place at CHS," Brown said via email. "I am not sure I could do justice to honor the contribution she has made to this campus."
Brown has much experience in being an associate principal. She previously was associate principal at Gainesville High School, but came to Coppell because she wanted to be in a forward-thinking district.
"I have now been in CISD for one and a half years and have come to realize that this district is not only an environment situated to reach your full potential as a leader, but even more CISD is the flagship for redefining public education," Brown said via email.
Although CHS is very technology efficient school, the area that Kellen is moving to, is nowhere near that.
"The area that I am looking at has very traditional teaching styles and they are quite behind in the technology department," Kellen said. "The skills I have learned here such as flipped classrooms, project based learning and the iPads will be effective there."
Kellen is not the only one who is saddened by her leaving. Her team can hardly put into words how hard it will be to see her go.
"I am very sad to see Ms. Kellen leave, but I know she will do great things where ever she goes," Jasso said. "She was so productive and helpful in everything she did for us, I do not doubt that she will do the same somewhere else."
The administration staff wishes Kellen the best as she leaves CHS and embarks on her new journey in education.
"Without a doubt I am going to miss the people here so much," Kellen said. "The kids are great learners, really respectful and I am really going to miss everything about this school so much."