Carter's beat lifts spirits of Bostonians from historic square
By Christina Burke
Managing Editor
"We gotta rock it, don't stop it, rock it don't stop it."
BOSTON – Rising from the depths of the subway system, a sweet sound greets the ears of the Bostonian traveler. A tourist might mistake this noise for three men on a drum set, but the locals know it derives solely from the musical genius of street performer Jermaine Carter and his makeshift drum set.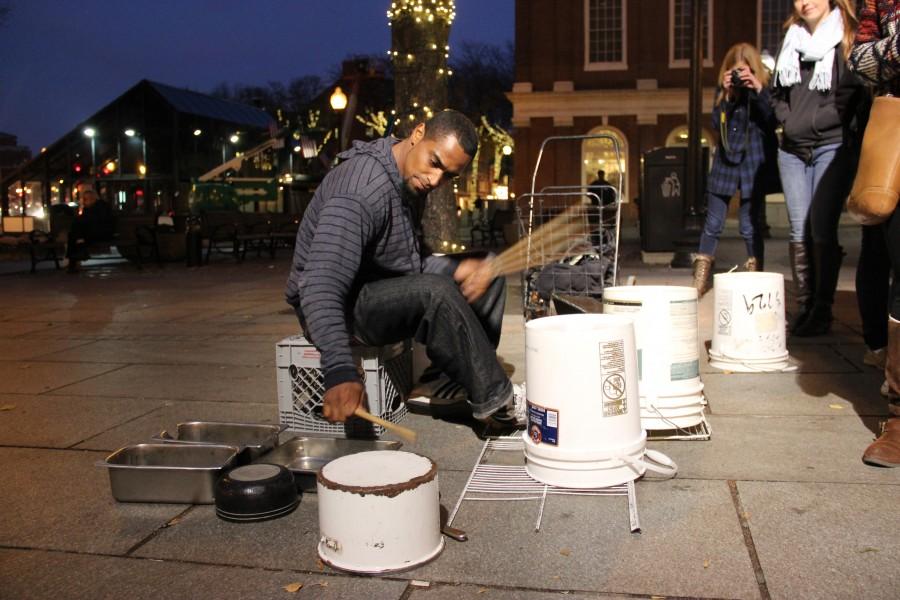 An array of paint buckets and tin cans lay before Carter as he props himself up on a bucket and begins to beat his 'drums', steps away from the Samuel Adams statue off the Freedom Trail in front of Faneuil Hall. As he plays, he sings from his soul the lyrics of "Planet Rock" by Afrika Bambaataa.
"First and foremost, I love making music," Carter said. "I love entertaining as well, whether it is making people laugh, or something to that effect. This is my job; I'm an entertainer, and this is how I choose to entertain."
Thirty-one members of The Sidekick, Round-Up yearbook and KCBY-TV staff members are in Boston through Sunday for the JEA/NSPA Fall National High School Journalism Convention.
Born and raised in Boston, Carter picked up on the art of bucket playing by observing others. In the past, he has spent some time as a roadie, traveling to tourist attractions around the country and spreading the joy of his incredible talent.
"People are intrigued by the way I make these buckets sound like drums," Carter said. "A lot of people who come to this very spot, especially people who have never seen something like this before, come out of the subway station and can hear me before they get to me. I enjoy giving people that effect."
Our group stood by in the plaza as Carter set his instruments down at a near by corner. Minutes later we found ourselves dancing and laughing as he how his music affected us in that moment.
"The street performer was an exquisite addition to the Boston experience," junior Round-Up Yearbook member Julia Olson said. "He produced a lot of energy that showed what this city is all about."
While Carter was drumming, a woman who was passing by stopped in her tracks and began to break dance before us. Everyone in the plaza stopped to watch as these two underrated talents do what they love best.
Carter claimed that performers in the city often intertwine their acts with each other, and even know each other personally. The vibe they create by sharing their talents adds to the artistic culture represented on every street corner in Boston.
"I know a lot of break dancers, other bucket players, guitar players and jugglers," Carter said. "There are street performers of all sorts around here, and we all respect each other's talents."
Street performers of all sorts fill the streets of Boston and act as an unique part of the city's culture. Carter carries on that tradition embracing his own unique passion for entertainment.