State titles highlight eventful 2012-13 school year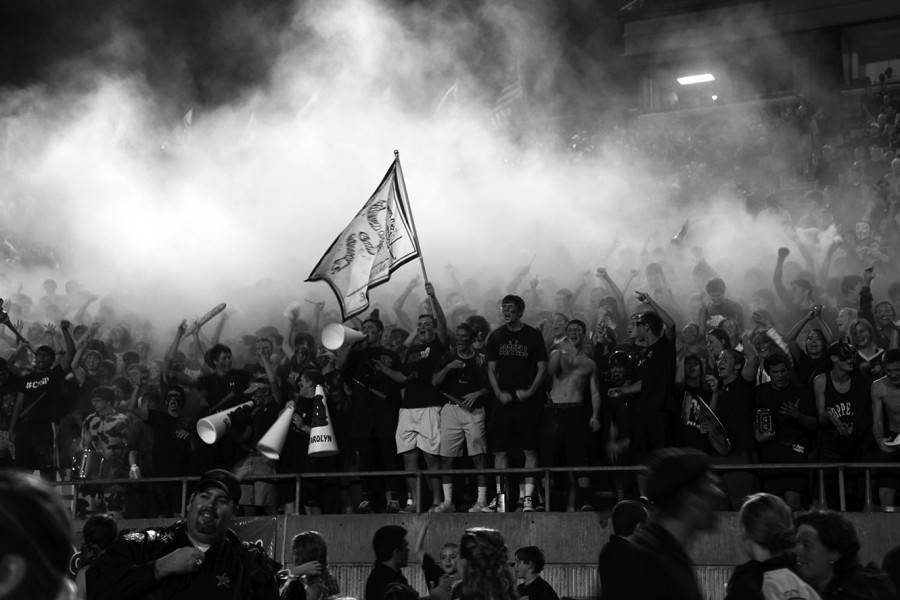 By Tina Huang
Staff Writer
Boys' soccer team wins state
April 20, 2013
Nine years ago. That was the last time the boys soccer team became the state champions. At the beginning of the soccer season, the team felt like something great was going to happen as it played in a soccer tournament in Florida. It was there where they beat the number one team in the nation, Boca Raton.
"That tournament was a really good indication of what we were capable of," senior attacking midfielder and captain Drake Lovelady said. "[Right from the start] we knew we were going to be a very good team. Coppell always has a strong team, so that tournament didn't just give us confidence; it gave us the confidence we needed this year."
The 2012-13 CHS boys soccer team defeated Brownsville Hannah in double overtime, 3-2, in the Class 5A state championship match.
Volleyball team wins 2nd consecutive state title
Nov. 17, 2012
Last year, excitement and momentum built as the CHS volleyball team pushed forward thorough district wins and kept pushing forward until the players found themselves in the final state match against Mickinny Boyd, winning in four games.
"This year going in we were expected to win state. It was basically the same team as last year," senior middle blocker Chiaka Ogbogu said.
Even though the team had experience, emotions of exhilaration and nervousness were still felt. Even so, the seniors took lead for the underclassmen in the final game.
"There are a lot of younger players," Ogbogu said. "Many of them were super nervous. We had to calm them down. We told them that being nervous is okay in beginning, but they needed to shake it off because if not then you won't win."
This year the team played New Braunfels in the final round, which they won in five games.
Jacob Logan and Jonah Blackwell
Oct. 14, 2012 and Oct. 16, 2012
Words can barely grasp the emotion felt during the week when Coppell lost two CHS seniors. Jacob Logan and Jonah Blackwell both tragically passed within a week of each other in October. The ensuing weeks and events were dramatic, humbling and reached a new caliber of emotions in Coppell, especially for students at CHS.
The events of that fateful week in October would come to affect friends in great ways.
"Since then, I have gotten to know so many different people," senior Coleman Armes said. "There are so many great, beautiful people in this world, and [I realize] that they are each going through different problems. In the end, we are all in it together, we all need to help each other. Everyone has their own story. People will disappoint, but they will also make you really happy. Basically what I'm trying to say is that we all need a sense of community."
Armes is alluding to the great sense of unity and togetherness that was felt after the tragic events. Students of not only Coppell, but also schools around the Metroplex really showed their hearts during this time of need.
The events also gave students to the ability to show their real strength. They did not let the devastation ruin them. Instead, they made the best of it. They celebrated the lives of their late classmates and found meaning and faith in the middle emotional distress.
"It has helped me grow up a little more," Armes said "I saw a lot of purpose to life because of I was a lot more thankful for a lot of things. [We] can get so caught up and life can move so fast that we forget [about the things that really matter]. Life is about the relationships you make and the impact you make on someone's life."
This year, teams had people they were playing for, people worth playing for. They were not playing just to win; they were playing in honor of Logan and Blackwell.
Logan and Blackwell will always be remembered in the hearts of the many lives they touched.
The Student Section
Coppell football games begin at 7:30 p.m., but the stands would be packed before then. By the end of the first quarter, bleachers would be so full that classmates stood next to each other, barely allowing room for movement.
"The student section we had this year is by far the best we've ever had," assistant principal Sean Bagley said.
Fueled with determination and strength to honor the legacy of Jacob and Jonah, students did not fall short on exerting the energy and spirit shown during the games.
It can be easy to say that students who felt the energy, emotion and unity of this year's student section will remember it for a long time to come.
Ultimate Frisbee winning state
May 12, 2013
Coppell Ultimate began in 2010. The team has come a long way since then. It has not once taken a huge step back; instead it has taken a huge leap forward. This fact is demonstrated by the state win for the team.
"This is by far the most successful ultimate team Coppell has ever had," senior captain Josh Brunelli said. "Really experience was a huge factor [in the state win]. We competed in a lot of tournaments to solidify and prepare us for the type of environment at state."
The team was definitely prepared when they were faced in the final round at state, pulling off a 13-10 win.