Zuniga takes 2013 Texas Poetry Out Loud championship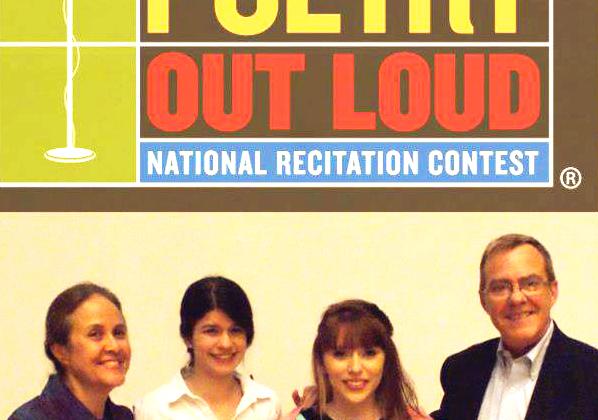 By Erica Rohde
Staff Writer
Coppell High School senior Maria Zuniga stepped back into the Texas Poetry Out Loud competition in February. She was named state champion her sophomore year. She knew what winning the
competition felt like. She knew what she was capable of.
Zuniga, named the 2013 Texas Poetry Out Loud champion, took the title once again.
"I started bawling this year when they called my name," Zuniga said. "I had already lived it. I was being given another chance, and those are rare."
The competition had looked all too familiar from her sophomore and junior year. She knew what weighed on her; she made it to the Texas POL championship her sophomore year, but she did not place her junior year on the state level due to sickness and not focusing enough on the competition she loved most.
"This year I knew I couldn't spread myself so thin," Zuniga said. "I wanted to do everything last year. I did POL, speech and debate, every play I could get my hands on. I was so devastated. I knew what to expect junior year."
After focusing her energy in the POL competition and college auditions for her senior year, she received a $500 stipend for the CHS library's poetry collection and the chance to win a $20,000 scholarship at the national level on April 28-30 in Washington D.C.
Maria's father, Roberto Zuniga, has full faith in his daughter. He is proud of her accomplishments and is supportive of her love for performing. He has watched her grow up, born and raised in Mexico with English as her second language. She has become the first woman to win the POL competition in Texas.
"You win something, but it is harder to keep something," Mr. Zuniga said.  "Other than facilitating what she does, we have done nothing. What you see is this propelling fire inside of her.
CHS librarian Lex Anne Seifert first introduced Maria to the POL competition. The two worked closely together on choosing the three poems and meeting the requirements for the competition her sophomore year. This year Maria chose the poems herself, each one speaking to her own experiences.
"She loves poetry; she reads a lot of poetry and spent a great deal of time reading hundreds of poems until she found the three poems that spoke to her heart and experience," Seifert said. "She cannot help but be a winner. She has the heart and the understanding."
According to Maria, POL is not an acting competition. It is about the poem itself more so than the actor.
"Every poem I am reciting, I am coming from somewhere," Maria said. "As an actor you do not always experience what you are portraying. You could be playing a girl with magical powers, but you have to substitute. With these poems I do not have to do that. If one person is touched by my performance, then I think I have gained just as much if not more than a $20,000 scholarship."
Calling Him Back from Lay off by Bob Hicok, The pomegranate and the big crowd by Alberto Rios, and April Love by Ernest Dowson were Maria's three selections. She knew she could speak of the family struggles and love with a powerful honesty.
Texas Commission on the Arts Program Administrators Anina Moore saw that Maria lets her own passion and talent drive her to do great things.
"Maria has a quiet grace and a really great way of finding poems that connect with her and share," Moore said. "She seems so composed. I saw that two years ago too. I did not have that type of composure at that age; looking at a poem and thinking about its depth and conveying it in a way that is not complex but at the same time does not make it simple at all."
Through her belief in Maria's success, Moore organized a meeting in Austin for her to work with other Texas Commission on the Arts Program Administrator Chuck Winkler and poet and scholar Susan Somers-Willett before nationals.
"All three of us worked beautifully," Maria said. "It was OK to mess up. We were experimenting. Susan Somers-Willet has done recitation, so she gave me pointers. They said 'you are in a good place; lets enhance it even more so'. I adore Anina Moore. She has been so gracious and so kind. The whole office is so generous."
Maria and those who support her know that funding for the arts are being cut in Texas. Maria thinks is due to a lack of understanding of the arts.
"I was surprised no one came up to Seifert and said I want to do this," Maria said. "I mean there is money involved and that is an incentive. There is a lot to be gained from being in the arts. I want people to see that there is more to life than football, even though football is great."
Seifert has watched kids throughout their high school career and knows the English curriculum. In looking at it, she knows that poetry is not being given its full chance in a school environment.
"I think many teenagers are intimidated," Seifert said. "When we look at poetry as a student we are asked to analyze and do a lot of academic work with poetry. To read and listen we are not always given that opportunity. When the kids find those poems and connect with them they keep it there with them. That's what Maria does. She carries them in her head all of the time. It is comforting; it is like a favorite song."
Maria recalls the lines from her poems in the years before. She uses them as tools to better understand her own life as she learns about the lives and stories of poets.
"I am grateful that poetry found me the way that it did," Maria said. "People do not realize that the music they listen to is poetry. It is everywhere. You can read what was written a long time ago and you can connect with it. It is a window to other generations and even now."