Master of horror, Darren Shan, mystefies students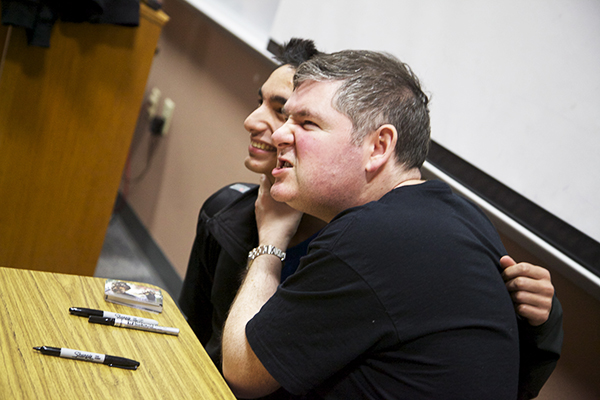 By Corrina Taylor
Staff Writer
British author Darren Shan paced in front of the lecture hall as he read the prologue to his new series, Zom-B; his whispering voice captivated the audience. Students leaned forward to catch every spellbinding word.
As they listened to the hauntingly mesmerizing story, there was complete silence. The master of horror had them hypnotized, desperate for every word.
Shan visit Coppell on Wednesday to talk with middle school and high school students about his books. He promoted his new series by wearing a black "Keep Calm" shirt crossed out in red ink resembling blood that said, "Run! Zombies are coming!"
"Having an author brings that extra excitement and extra connection about reading," Coppell High school librarian Jennifer Sullivan said. "He can jazz up an audience and get the students excited about reading and promote reading for fun, which is what the library is about."
A connection between a middle school librarian and Shan enabled him to visit the high school, and the students were eager to meet him. Shan's visit brought 120 students from the middle schools and 70 high school students to the lecture hall.
During his presentation, he read two excerpts from the books in his Zom-B series, his various voices for the characters brought the story to life for the audience and even startled some when the story took a turn.
"The best way to get people reading is to help them see books are for fun," Shan said. "Books are entertainment. Like video games and comics books, they are made to be entertaining and I try to play up the entertainment factor of the book, so hopefully they will read my books afterwards and other books as well."
After he had whetted the audience's appetite for the zombie series, Shan opened up the floor for questions from the audience. Hands instantly shot up.
During this time, Shan revealed the reason behind his series, as a response to 9/11 and the bombing in London. Having lived in the east end of London, he experienced the mix of different races and ethnicities.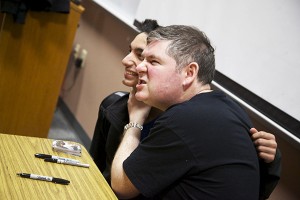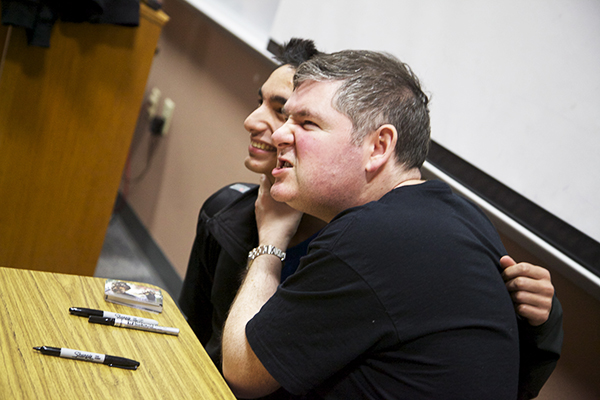 "After the bombing, the sense of community was gone and there was tension in the air; attitudes began to change and political forces at work were trying to divide people," Shan said in his answer. "I wanted to write a book in response that the world can be a scary place but not as scary as you are told."
He emphasized that people should not go through life in fear based on what they are told. He didn't want a dry book packed with plot twists, so he added a theme of racism from the protagonist's father.
The questions then veered toward the film adaptation of his book Cirque De Freak. Students eagerly awaited the answer to this looming question. Students expecting a negative response were surprised to find that Shan enjoyed the movie.
Having no part in the actual film production, Shan could only stand by and wait for the final result. For him it was a way of reeling in new audiences who had not read the books before. People who knew nothing about his books would now be interested thanks to the movie.
After the Q&A session, the middle schools were dismissed, and Shan set up for students to have their books autographed. A representative from Barnes & Noble was on site to sell his books as well.
Students lined up and eagerly awaited to meet the author. Some even had a chance to take a photo with him. In photos, Shan creatively wrapped his hands around the students' necks, pretending to choke him, while smiling broadly.
"To have somebody who has been so successful in the writing industry to come and talk to us and inspire us about his books pretty much also inspires kids to start writing themselves," senior Josh Escobar said. "All in all it was pretty awesome."
After having their books signed, students clenched their books to them, beaming as they excitedly talked with their friends about their experience. The energy was intoxicating and shared by everyone including Shan.
"It's the most enjoyable part for me, getting to meet the fans and talk about my work," Shan said. "I love writing, but you write in isolation, and I have an idea if a story works or not but you have no idea until you get feedback from the fans, it's a perk of the job. "