Michael Williams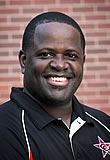 The friendly face of Michael Williams is well known through the halls of Coppell High School.
Williams serves as one of CHS' six assistant principals. He is in charge of freshmen with last names L-Z and goes about his day as all assistant principals do.
From their very first year at CHS, students recognize Williams as the friendly AP who always has a smile on his face and tends to make students smile in return. He is also well known for his easily recognizable voice, which students love to hear.
Almost every morning, Williams can be found greeting the students of CHS as they walk up the main stairs to their first period classes. He can also be found during all three lunch sitting with his fellow APs either on the stage or near the back hallway.
His office is located at the back of the school inside the freshman center in downstairs E Hall and he can be contacted at [email protected]