By Allison Arnold
Sports Writer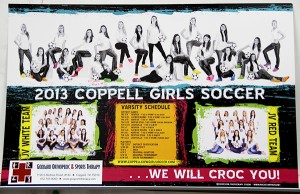 Every sport in Coppell has a poster. Usually on these posters, the schedule is included, along with a team picture of the JV and freshman teams at the bottom and a huge picture of the varsity team at the top.
Every year, there is always a sport that tries to switch things up, especially with the picture of the varsity players. Whether it be the pose, the background, or their facial expressions, every poster must somehow stand out and make a statement. Many teams succeed in having that awesome poster that grabs people's attention. However, for the 2012-2013 Cowgirls soccer poster, creativity and standards have reached new heights for the Coppell sports posters.
This year, the Cowgirls soccer poster got a little more colorful when they brought crocs into the picture. The whole poster is covered in bright, neon colors with "WE WILL CROC YOU!" at the bottom. Along the top, there is a big picture of the varsity girls each wearing a certain color pair of crocs.
When looking at it, many ask why a team would wear a very unpopular shoe on a poster that is usually supposed to strike people as serious and intimidating. However, the whole team could not be more proud of it.
"We really just wanted to have fun with the poster this year," sophomore forward Sarah King said. "Making a statement and standing out from all the other posters was something the whole team wanted to do. We also just wanted people to laugh at how dumb our bright and colorful crocs look."
Cowgirls win once again on home turf
On Tuesday, the Cowgirls defeated Colleyville Heritage with a score of 1-0. With an assist from junior Reagan Meyer, senior Paige Jacobs scored with six minutes left in the first half. Defense on both teams was exceptionally tough.
Flu and injuries hit varsity soccer team
Sophomores Tara Vishnesky, Sarah King, and Cami Studebaker are all out until further notice. Vishnesky and King, both forwards, have been suffering from the flu and missed Tuesday night's game. Studebaker, a defender, got a concussion in practice and also could not participate.