Joe McBride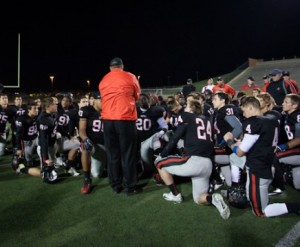 Joe McBride is the Head Coach of the Coppell Cowboys football team. McBride came to Coppell in 2009 and is currently in his fourth season here.
He immediately brought with him a winning tradition and standard of excellence. In his first season, McBride guided the Cowboys to an 11-2 record and the third round of the playoffs. The following year, McBride led Coppell to an undefeated regular season and appearance in the State semifinals, only 1 point away from a shot at the Championship. This year, McBride's Cowboys are on pace to make another run at the title, completing another regular season sweep and Division Title.
Before he was a Cowboy, McBride was the Head Coach for Frisco Liberty and the Defensive Coordinator for Hebron, where he won a State Championship in 2005. With 19 years of coaching experience, McBride has built Coppell Football into a household name around the State. McBride is a man of discipline and character who tries to instill these qualities into his athletes. His motto: "win or go home."
He played high school football for Lewisville High School and graduated from Texas Tech. He and his wife Jan have three children and live in Coppell.